Pussy Riot Returns With a Disturbing Video About Europe's Refugee Crisis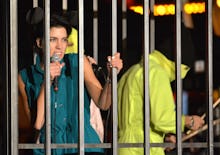 Pussy Riot sold out. The punk rock protest group, known for its impromptu and illegal concerts staged in areas to create maximum disruption, such as Moscow's Red Square or the Cathedral of Christ the Savior — played its first legal, organized concert in September. They couldn't have chosen a better venue: Banksy's Dismaland, the dystopian theme park filled with Walt Disney-themed political art. 
On Tuesday, Pussy Riot offered the world a look at what that show looked like, debuting some of the footage in its latest music video for the song "Refugees In." 
The song takes aim at European governments, accusing them of exacerbating the current tensions in Europe by keeping their borders closed to refugees. "Governments here should feel the shame/ Fucking liars, you're to blame," the group sings over video of a mock battle between protesters and riot police staged during their show.
The flood of press covering the deaths that have occurred on many individuals' journeys seeking asylum inspired Pussy Riot to write "Refugees In." They put it together in two days while gearing up for the Dismaland concert in London. 
"We had no doubts that the main topic of our event should be a pro-refugee, pro-free-traveling, multiculturalist agenda," Pussy Riot's Nadya Tolokonnikova told Noisey. "We cannot and must not turn our backs on these people. We cannot allow our elected representatives to place a monetary value on human lives. Ethics and not economics should be our guiding principle."
The dark, electronic feel of "Refugees In" solidifies the new direction the group's sound is taking away from the garage and punk feel of their previous work. Their last major video, "I Can't Breathe," shared their new fascination with electronics. 
That song was dedicated to Eric Garner and "all those ... around the globe who suffer from state terror — killed, choked, perished because of war and state-sponsored violence of all kinds," as the group wrote in a statement, and had more a somber, subdued tone. Conversely, "Refugees In" is a call to action.
"If Europe closes the borders, hundreds of thousands of Muslims putting on the line everything they have to escape radical Muslim state will never be able to see another world," Tolokonnikova told Noisey speaking to Paris, the video and the ongoing fallout from Syria. "Some of them will join that very ISIS, being embittered and disappointed in the good will of European states. If we want to attract Middle Eastern people with our Western values there is no other way but to accept them. Accept and save those who flee the country occupied by terrorists, those who run to Europe as to some promised land."
Or, as they say it more concisely, "Refugees in, Nazis out." Watch the full video below.