Jared Fogle Sentencing: Live Online Coverage, Updates and Full Sentencing Details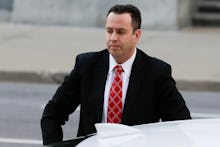 After pleading guilty in August to traveling to have sex with minors and possessing child pornography, former Subway sandwich chain spokesman Jared Fogle was sentenced to 15.6 years in prison on Thursday in Indianapolis federal court. The more than four hour hearing began at 9 a.m. Eastern.
In accordance with federal law, Fogle faced a sentence of up to 50 years, the Indianapolis Star reports. His attorneys asked for five years while his prosecutors are asked for 12 1/2 years. U.S. District Judge Tanya Walton Pratt, who decided on the sentence, has a reputation in the Southern District for ruling long jail sentences, according to the Indianapolis Star. 
According to WXIN reporter Kendall Downing, Fogle entered the courtroom at around 8 a.m. Eastern. Downing has been reporting live from the courtroom.
The sentencing commenced at 9:00 a.m. Eastern
Under a supervised release, Fogle would be forbidden from any unsupervised contact with minors except for his own children. 
Fogle possessed child pornography involving children as young as six
And had sex with a 16 year old — multiple times
He confirmed that the charges against him are true
Forensic psychiatrist Dr. John Bradford, who was phoned in during the sentencing, said Fogle's compulsive eating disorder became a compulsive sexual disorder after losing weight, according to Jordan Fischer of RTV9.
Fogle justified his actions by pointing out that the minors were "sex workers."
Amid arguments that Fogle didn't "request" the child pornography and that he has compulsive sexual disorder, his defense team made a general point about the case. 
After hours of arguments between defendants and prosecutors, Fogle made a plea.
Follow WXIN's live blog here.
Follow WTTV's live updates here.
Charges against Fogle began racking up in August after an investigation found Fogle had been traveling from his home in Indianapolis to New York to have sex with minors and paying his victims to find him more underage prospects to have sex with. Fogle was also found to have been receiving pornographic images and videos of minors, produced by his friend, Russell Taylor, who formerly worked for his childhood obesity foundation. In October, audio recordings surfaced of Fogle bragging about how "amazing" it was to have sex with a "little boy."