12 Photos of the Police Shooting Protests Rocking Minneapolis Right Now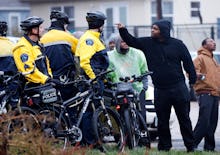 Four days after a police officer shot Jamar Clark, 24, in the head, people in Minneapolis are still in the streets protesting. 
According to the Star Tribune, demonstrators set up a campsite earlier this week outside the Minneapolis Police Department's 4th Precinct, located in the northern part of the city. 
On Wednesday afternoon, officers dismantled much of the site, carrying makeshift tents, blankets and books away in large plastic bags.
Tensions rose later that evening as protesters confronted police, with a few reportedly throwing rocks and bottles at the precinct and officers coming out in riot gear, including rifles with tear gas and beanbag rounds, and using pepper spray to disperse the crowd.
All of this stemmed from the events of Sunday morning, when police were called to the scene of a reported domestic dispute. Police have said Clark was interfering with paramedics who were attempting to care for his girlfriend, the Star Tribune reported Thursday.
After a brief scuffle, the officer shot Clark just above his eye. He died at the hospital Monday. Some witnesses said Clark was handcuffed at the time of the shooting.
On Monday night, 51 protesters were arrested for blocking Interstate 94, and demonstrations have barely subsided since.
Officials have obtained multiple videos of the shooting, including cellphone video and footage from an ambulance camera, though they have not released them to the public.
On Wednesday morning, Minnesota's Bureau of Criminal Apprehension identified the officers involved as Mark Ringgenberg and Dustin Schwarze,  according to the Star Tribune. Both are on paid administrative leave, and the FBI is conducting an inquiry to see if Clark, who is black,  faced any violations of his civil rights.
Over the past year and a half, a nationwide protest movement against police killings of black people has coalesced under the banner #BlackLivesMatter. Demonstrations have taken place in response to police violence in Ferguson, Missouri; Baltimore, Maryland; and a number of other cities.
The city of Minneapolis has seen its share of racial tension in the past few years. In 2013, police killed another unarmed black man, Terrance Franklin, during a scuffle in a basement during which police say the 22-year-old reached for an officer's gun. No one was indicted for the killing.
This past spring, the federal Justice Department selected Minneapolis to undergo programs to help repair the relationship between its police and communities of color.