One Magazine Just Made an Awesome Statement With Its Cover Star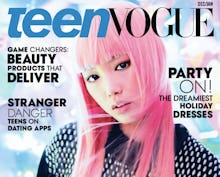 Teen Vogue's latest cover model is undoubtedly trendy. She has long, bubblegum-pink hair with blunt bangs that skirt her eyebrows, the kind of look that would undoubtedly turn heads (even given today's ubiquitous candy-colored hair trend).
But Fernanda Ly, the 19-year-old Australian model gracing the cover, is breaking ground in a new way. She's the first Asian model in recent memory to be featured on the cover of Teen Vogue, the magazine told Mic. And that makes her one of the few Asian models who's been featured on a fashion magazine cover, ever.
Ly's rapid ascent in the world of fashion is notable for plenty of reasons, but in an industry that tends to be ethnically and racially homogenous, Ly stands out. Landing the cover of Teen Vogue is a big step from the runways that Ly has previously walked. 
Unlike runways, covers are out there for everyone — including teen girls — to see.
Showcasing a different beauty ideal: Teen Vogue is obviously aimed at teens, who look to the images around them to see what's beautiful. For that reason, diversity on the covers of magazines is crucial — and that diversity rarely includes Asian faces. 
Teen Vogue has had no women of Asian descent on a cover in recent memory, and other women's magazines have followed the same trend. In 2014, the website the Fashion Spot analyzed the covers of 44 major magazines and found that white models appeared nearly five times more often than models of color. Asian models appeared on only 53 out of 611 covers, according to the report. 
Much of that representation is also fairly recent. Vogue Italia, for instance, featured its first Asian model on a cover in 2013. Vogue has reportedly never put a Chinese model on a solo cover — ever.
The fact that Ly made the cover of a teen-focused periodical is promising, given that teen magazines are naturally more focused on seeking out up-and-comers their readers can identify with. With youth — and teen girl fans — comes the promise of a longer career in front of the camera. Teen Vogue, with an audience of millions and fashion cache, gets noticed not only by girls, but also by industry insiders.
Seeing a new model face: Given that the December/January issue of Teen Vogue is "The Model Issue," the magazine could have featured Gigi Hadid or Kendall Jenner, two of the "It" girls from a generation of models who've built their fame on social media. Instead, Teen Vogue chose a lesser known star and made no secret about her importance for creating a more diverse fashion scene.
"All of Australia's most notable models — including Elle Macpherson, Miranda Kerr and Gemma Ward — are white," noted writer Phillip Picardi in the cover story, adding:
This is curious given that plenty of nonwhites call Australia home. In addition to having an indigenous population, the country is also composed of both Australia-born residents who trace their ancestry to places like China and India, and immigrants from various countries in Asia and elsewhere. Fernanda, whose parents are Chinese, grew up in a predominantly Asian neighborhood.
It's not the first time that the magazine has featured a diverse set of models on its cover. In July, it featured three rising models of color: Imaan Hammam, Lineisy Montero and Aya Jones. "Embracing and promoting diversity has always been a priority for Teen Vogue," Elaine Welteroth, Teen Vogue's beauty and health director and the editor of the July cover story, told Mic.