Abdelhamid Abaaoud, Alleged Paris Ringleader, Is Dead — and This News Headline Says It All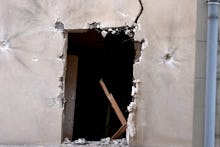 French authorities confirmed the death of Abdelhamid Abaaoud on Thursday following a deadly raid on the Paris attack suspect's home outside Paris on Wednesday, multiple outlets reported. One media outlet in particular, the New York Daily News, didn't take pains to sugarcoat the development, and might even have expressed how some onlookers felt about the news. The publication posted a photo to Twitter of its cover story, the headline of which reads "Smile in Hell, Daesh Bag." 
After the dust of the raid settled, authorities suspected Abaaoud had been killed during the siege on his hideout in the Parisian suburb of Saint-Denis, though officials were unable to confirm the supposed assailant's death until Thursday morning. 
"The brain or one of the brains — we have to be extremely careful — was found among the dead," French Prime Minister Manuel Valls said on Thursday, according to the Wall Street Journal. 
Abaaoud, a Belgian native, is thought to be the ringleader behind the ISIS-led attacks that rocked Paris on Friday and led to at least 129 people being killed at several locations in and around the city. According to the French interior minister, the Islamic State group, known commonly as ISIS, member had tried — and failed — to organize at least four separate terror attacks since the the spring, Reuters reported. 
During the Wednesday raid, police reportedly fired as many as 5,000 bullets as they stormed Abaaoud's apartment, according to the New York Daily News, and officials were able to identify the 27-year-old suspect's body from skin samples collected from the rubble in Saint-Denis after the raid ended. Hasna Aitboulahcen, Abaaoud's female cousin, was also killed in the raid.
Here's a series of photographs captured during the raid on suspected terrorists in Saint-Denis:
Nov. 24, 2015, 10:15 a.m.: This story has been updated to reflect new information on the woman who died during the raid in which Abdelhamid Abaaoud was killed. French officials now believe the woman, Abaaoud's cousin Hasna Ait Boulahcen, did not detonate the bomb that reportedly killed her.