This Young Reporter Told HONY About His Dream Job and Got the Best Response From NASA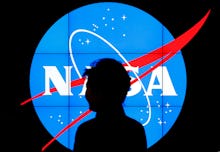 A young boy and his father were featured Saturday in a portrait on photographer Brandon Stanton's popular Humans of New York blog. In the accompanying caption, the boy said he wanted to be a reporter like his dad. 
"If I was a reporter right now, I'd probably write a story about if NASA was going to launch a new rocket into space," the boy was quoted as saying. "I'd start by going to the director of NASA. Then I'd ask him about his rockets. And if any of them were going to space."
Just hours after the boy's story was posted to HONY's Facebook page, NASA's official Facebook page left a comment, giving the cub reporter some originally sourced info.
"We are going to launch a new rocket into space! We're developing NASA's Space Launch System to be the world's most powerful rocket and launch NASA's Orion Spacecraft into deep space, first to lunar orbits then eventually farther on the journey to Mars," the comment said.
NASA isn't the first high-profile commenter on a Humans of New York post. In September, President Barack Obama left a comment via the official White House Facebook page under a photo of an Iranian father and son. In it, the father tells about the moment when he became aware of his son's inherent selflessness.
"I hope this young man never loses his desire to help others," he wrote. "And I'm going to continue doing whatever I can to make this world a place where he and every young person like him can live up to their full potential."
The comment was signed with Obama's initials in lowercase, "-bo."
And in July, former secretary of state and Democratic presidential front-runner Hillary Clinton posted a comment below a portrait of a teenage boy, who spoke of being gay and fearing for his future. 
"Prediction from a grown-up: Your future is going to be amazing," Clinton wrote. "You will surprise yourself with what you're capable of and the incredible things you go on to do. Find the people who love and believe in you —there will be lots of them."