Inside the Massive Warehouse in Brooklyn That Holds All Your Discarded Electronics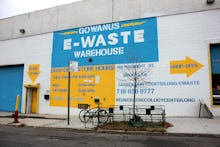 New York — Nestled in west Brooklyn beside the charmingly putrid Gowanus Canal and the hip Royal Palms Shuffleboard Club is a massive, ramshackle warehouse. Stretching nearly halfway down the block, it announces its presence with a homemade sandwich board and a brightly painted exterior. 
Officially, it's called the Lower East Side Ecology Center Electronic Waste Recycling Warehouse. Casually, it's known as the Gowanus E-Waste Warehouse, and it's the place that thousands of pieces of discarded electronics — old and new, junky and shiny, big and small — call home.
Since 2011, the warehouse has collected thousands of tons of techno-junk from e-waste drives and drop-offs, and it's often the first stop for unwanted devices in the region. It's a small subsection of the Lower East Side Ecology Center, a nonprofit founded in 1987 to provide community-based recycling and composting programs.
The warehouse team, comprising four full-time staffers and a fleet of volunteers and interns, sorts through the incoming materials and classifies them by type. Still-functional items are put through a rigorous quality-assurance test and repaired if necessary. They're then either sold in the re-use store or transferred to the prop shop, where they're rented out — often by Hollywood production companies — for a small fee. If they're unusable, the team strips them for valuable parts and then ships them downstream to their partner e-waste recyclers. 
"We feel like we add value to the community because people can come here and get things that are of high quality," Michael Saunders, the warehouse's 29-year-old operations manager, told me as we sat in the in-house re-use store.
Saunders is tall, friendly and soft-spoken. When I visited the warehouse on a recent November afternoon, he was clad in a pair of jeans, a navy blue sweatshirt and a grey coat. (Even though it was a mild day, it was chilly inside the cavernous space.) The typical sounds of a warehouse — clanging, banging, bursts of conversation, a radio blaring Top 40 hits — were everywhere.
Before this gig, Saunders worked in corporate IT for six years. But the desire to try something new and a passion for the environment brought him to Gowanus, where he's been stationed for about five months.
"I'm into the environment," he said. "That's a big one. But still being able to have a hand in technology is wonderful." According to Saunders, the primary mission of the warehouse is rooted in concern for the environment and the damage done by careless electronics disposal.
"'Planned obsolescence' — it's something we lament a lot around here," he said. "A lot of the big vendors unfortunately utilize that ideology." 
In the past two and a half months alone, Saunders said they've held 24 recycling events around the city. "You can imagine how many tons that is," he laughed. (He said they've recycled about 430 tons of electronics so far this year.)
A big chunk of their recent inventory has been made up of cathode ray tube TVs, in part because of a new New York State law that bars residents from placing electronic equipment on curbs. Unlike mobile phones, cameras and radios, CRT TVs — the massive, older, boxy models — are difficult to conceal. 
The TVs, however, aren't likely to find new homes. Thin, flashy, flat-screen models are easily available these days, and they're relatively cheap. "People want TVs they can hang on their walls," Saunders explained. The team will take what they can from the CRT dinosaurs and bid them farewell.
While only about 5% of the material the warehouse receives is reusable, it goes quickly. According to Saunders, Apple items are particularly popular due to their general desirability and the frequency with which the company comes out with new models.
As a nonprofit, the warehouse is always looking for new revenue streams and reselling snazzy gadgets. Despite the considerable markdown at which they offer them, it's one of its primary mechanisms for making money. Saunders said they could be making a much bigger profit, but that would involve doing business with shady or disreputable downstream recyclers — something that doesn't jibe with the nonprofit's environmental mission.
Buried between the aisles of sky-high shelving, the contrast between the relative impersonality of the gadgets themselves and the deep connection their owners had with them is striking. There were old computer boxes with names written in permanent marker — "Jeff's iMac" — and typewriters with sheets of paper left inside. There were faux-wooden TVs with deliberate scratches on the sides and rotary phones on which certain digits were more faded than others.  
"You're generating personal content," Saunders explained. "You're generating content on these machines." People become attached, particularly to items they spend years and years with. Some of the objects have a nostalgic pull — Saunders pointed out a funky, distinctly 1970s-style entertainment system — but others simply carry the telltale signs of continuous, affectionate use.
Walking between the piles of equipment, it is surprisingly easy to imagine these items, now frozen in time, were once like living, breathing robotic creatures. Grouped together, they look like little troops of mushrooms left to grow old and wild. 
Despite the warehouse's enormous inventory, Saunders noted, people often squirrel away old electronics, keeping them in their basements or desk drawers for years and years. 
"Some people are just hoarders," he said. "Being a technologist, I have a computer that I built in college. It still works, and it's probably more powerful than these things out here. From that standpoint, I'm going to keep it because I built it; it's my baby." Others, he said, simply can't bring themselves to throw away something upon which they've imprinted so much of their life.
Perhaps the coolest part of the warehouse, and the one for which Saunders had the most enthusiasm, is the prop shop. It's a history buff's dreamland: Boom boxes from the '80s, old transistor radios, Polaroid cameras, first-generation iPods — can all be found piled on the dusty metal shelves. 
One of the volunteers proudly showed off a Continental typewriter from 1942 that had arrived that day. "It still has the original paper in it," she said.
"There are a lot of things that come in that are amazing and that just kind of open your eyes," Saunders said. His favorite item that had come through the warehouse and now sits comfortably in the prop shop is an antique turntable from the 1970s. Housed in ornate, cherry red wood and finished with brass detailing, the turntable is in near-perfect shape. "It's near to my heart because my parents had one," he said. 
The warehouse can seem like a graveyard, but it's really more like a museum — one that's as much about individual possessions as it is about collective consumption. As our habits and tastes change, so too will the kind of material it recycles. What will all but certainly stay constant, however, is the pilgrimage from store packaging to the center's doors — these gadgets can't stay locked in a desk drawer forever.
The center has an artist-in-residency program, and the warehouse is decorated with various works like this one from its artists.
A set of speakers for sale
The loading dock, where unusable electronics get shipped off to downstream recyclers.
A discarded motherboard
Another artist-in-residence project: necklaces made from electrical wiring that make noise when you touch them.
The view from below
One of the many fun, nostalgic artifacts in the warehouse's depths
Another artist-in-residence project
The warehouse has a camera expert on hand with 40 years of experience.
One corner of the prop shop
A classic film
R.I.P
There are stacks of items grouped together dotting the warehouse, and they're often delightfully arranged.
A giant motherboard stitched together from smaller motherboards
Rotary phones
Another gadget family
Dust was prevalent.
Things occasionally end up in the wrong place.
An iPhone tapestry
The shelving almost reaches the ceilings.
The good old days
The really good old days
The really, really good old days
In the repair room, volunteers, interns and employees tackle the broken items.
"Jeff's iMac"