Rand Paul Introduces Bill to Strip Benefits From Refugees Who Are Already in the US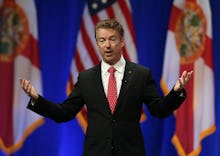 As Republican presidential candidates jockey to appear most hawkish on terrorism, Kentucky Sen. Rand Paul is making his case as aggressively as he can.
Following the terrorist attacks in Paris that left at least 129 people dead and hundreds more injured, and subsequent public antipathy towards Syrian Muslims fleeing their homeland's deadly civil war, Paul introduced legislation that would suspend the issuance of visas to citizens of any country with a "high risk" of terrorism.
"The time has come to stop terrorists from walking in our front door," Paul said in a statement released by his Senate office. "Numerous refugees from Iraq, including some living in my hometown, have attempted to commit terrorist attacks. The terrorist attacks in Paris underscore this concern that I have been working to address for the past several years. My bill will press pause on new refugee entrants from high-risk countries until stringent new screening procedures are in place."
Now, Paul has one-upped his own bill. In an appearance on Fox News on Wednesday evening, Paul stated that refugees currently living in the United States shouldn't be getting government benefits when there are already plenty of American citizens that need them. 
"Refugees come here and immediately are put on welfare," Paul said. "In Kentucky, we have a lot of people out of work, a lot of coal miners out of work. I've got disabled veterans saying to me on the phone just as recently as last night, that they are having trouble surviving on their disability payments as veterans, they don't understand why we're going to take in the world's poor and put them on our welfare programs." 
To combat this putative problem, Paul is introducing an amendment to block access to those benefits, which include $1,850 for initial housing, food, clothing, referral services and social programs, as well as access to Medicaid, SNAP benefits and employment placement benefits for those who qualify.
A newfound hawkishness: Paul, who chafes at the label "isolationist," has struggled to address foreign policy in a manner that resonates with a party base that still supports the invasion of Iraq in 2003. The senator, who told Reason in 2014 that he opposes expanding NATO agreements to include countries under Russian influence and that the U.S. military's role in Iraq should be limited to protecting embassies, has been the target of heated criticism by fellow presidential candidates for his views on the nation's role as global peacemaker.
"I know Rand is a committed isolationist," fellow candidate Sen. Marco Rubio of Florida said at the most recent Republican presidential primary debate in Milwaukee. "I'm not. I know that the world is a safer and better place when America is the strongest military power in the world."
Sen. Ted Cruz of Texas piled on. "You think defending this nation is expensive?" Cruz asked a floundering Paul rhetorically. "Try not defending it. That's a lot more expensive."
Paul's amendment, which unites his loathing of federal government spending with the post-Paris anti-refugee zeitgeist, may have a receptive audience. According to a Bloomberg Politics poll of U.S. adults, only 28% of Americans think the government should continue President Barack Obama's plan to resettle 10,000 additional Syrian refugees without "religious screening." A mere 11% would allow the resettlement, as long as only Christians were allowed entry to the U.S.