Nicki Minaj Reading Maya Angelou's Poetry Is the Most Empowering Thing You'll Watch Today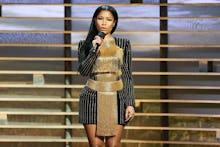 Maya Angelou and Nicki Minaj have something in common: resilience. At Wednesday night's Shining a Light: A Concert for Progress on Race in America at the Shrine Auditorium in Los Angeles, Minaj read Maya Angelou's poem "Still I Rise." The event was part of A&E's ongoing campaign to spark conversation about race in America.
The poem, one of Angelou's most celebrated, revolves around triumph over oppression. It speaks specifically to the struggles facing black women and the tenacity it takes to overcome them. Though Angelou wrote the poem in 1978, Minaj's reading in 2015 still feels salient to both the musician's career and the struggles of black women more broadly. 
Minaj read the poem with a calm, triumphant and defiant tone. The audience erupted in applause as she read the lines: "Does my sexiness upset you?/ Does it come as a surprise/ That I dance like I've got diamonds/ at the meeting of my thighs?" 
Minaj's longtime fans know "Still I Rise" was the title of one of the artist's earliest singles from her career-making mixtape, Beam Me Up Scotty. Like Angelou's poem, it is a personal track that discusses the pressure Minaj faces to be all things to all people. 
Watch Minaj recite Angelou's poem below: