Donald Trump Open to Database for US Muslims, Mosque Monitoring After Paris Terror Attacks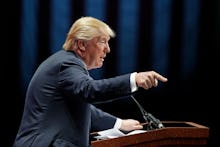 In an interview with Yahoo News published on Thursday, business tycoon and presidential hopeful Donald Trump said he would consider instituting stricter surveillance of Muslims in the United States, and didn't nix the idea of adopting ID cards or establishing a database to keep tabs on Muslims in the country.
"We're going to have to do things that we never did before," Trump told Yahoo News. "And some people are going to be upset about it, but I think that now everybody is feeling that security is going to rule. And certain things will be done that we never thought would happen in this country in terms of information and learning about the enemy."
Pressing Trump on the specifics of what constitutes "unthinkable" measures, Yahoo News asked if he would institute some sort of ID card to delineate Muslim citizens and if Muslims in America would be detailed in a database.
"We're going to have to look at a lot of things very closely," Trump said in response. "We're going to have to look at the mosques. We're going to have to look very, very carefully."
People on Twitter responded with outrage:
In the wake of Friday's terrorist attacks in Paris, an event that intensified feelings of Islamophobia, unconfirmed reports that at least one of the alleged attackers may have crossed into Europe with a wave of Syrian refugees has led many U.S. governors to voice concerns about allowing displaced Syrians take refuge in their states. Many state leaders have said they'd refuse Syrian refugees altogether.
Trump has taken a hard stance on Muslims in America in the past. After a September town hall meeting in New Hampshire in which a Trump supporter asked the candidate about his plans to eliminate Muslim "training camps," Trump said some U.S. Muslims were problematic for the country, according to CNN. 
According to the latest polls, Trump is the leading candidate in the GOP's race to the White House. Per the Huffington Post, Trump is polling at 30.5%, followed by retired neurosurgeon Ben Carson at 18.4%. 
Correction: Nov. 19, 2015