Ben Carson US Map Photo: Here's the Tweet That Had the Internet LOLing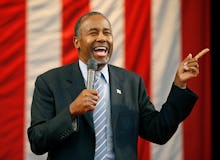 Republican presidential hopeful Ben Carson might have just made the biggest "oops" yet in his campaign trail, and it just so happens to fall on National Geographic's Geography Awareness Week. The former neurosurgeon's national campaign on Tuesday tweeted an image of what was supposed to be a map showing what states have governors who are claiming they would bar Syrian refugees from resettling in their borders. The only problem: The map shown in the tweet isn't an accurate map of the United States.
The Washington Post took a screenshot of the tweet, which has since been deleted, showing the multiple errors in Carson's unrealistic map. In the incorrect version of the map, Connecticut, Rhode Island, Massachusetts, New Hampshire, Maine, Vermont, New York and Virginia all have misplaced borders to some degree. 
Ben Carson's America: Apparently, under a President Ben Carson, the U.S. would receive quite the facelift. While Vermont and New York residents would likely welcome the hundreds of miles of beautiful new coastlines, it remains unclear whether Massachusetts would enjoy cuddling up to Canada with new borders considering the governor's tough take on refugees. Maryland and Virginia seem to conjoin near the Delmarva Peninsula. 
Although the error was committed by a leading Republican candidate for president, social media users immediately picked up on the mistake, which hopefully reveals that Americans know more about geography than originally thought.
Carson's campaign has since corrected the tweet, as well as adding the four new governors who are declaring they will essentially defy the Refugee Act of 1980 by barring Syrian refugees from entering their states.