The US State Department Posts Up To $5 Million Reward For Abu-Muhammad al-Shimali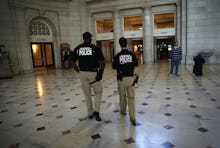 On Wednesday, the United States Department of State's Rewards for Justice program announced it is offering a reward of up to $5 million for anyone who provides information that leads to the capture of terrorist Tirad al-Jarba, also known as Abu-Muhammad al-Shimali, a governing member of the Islamic State group. 
A Saudi Arabian citizen who was born in Iraq, 35-year-old Al-Shimali allegedly arranged for six people to travel across Syria's border for training and back into Europe for Friday's large-scale massacre in Paris, according to the Telegraph. The outlet reports Al-Shimali joined al-Qaida in Iraq in 2005, later moving over to involvement with ISIS. His main responsibility for the terrorist group consists of transporting terrorists in and out of Syria.
He has been on the Department of Treasury's Specially Designated Nationals for his involvement with the Islamic State since September, according to the report. This essentially means that he is blocked from any financial activity in the U.S. He is also on the United Nations Security Council Sanctions list, which means he can't travel to, from or within the U.S. 
The search for Al-Shimali comes as French officials conduct police raids throughout France in wake of a series of terrorist attacks in Paris that left at least 129 dead and hundreds more wounded on Friday. During a raid in the northern Parisian suburb of Saint-Denis on Wednesday, seven arrests were made, five police officers were injured and a police dog was killed. 
"It's just a start, these operations are going to continue," French Interior Minister Bernard Cazeneuve told the Guardian on Monday. "The response of the republic will be huge and total. He who targets the republic will find the republic will catch him, will be implacable."