American Music Awards 2015: Justin Bieber and 3 More Reasons to Watch Sunday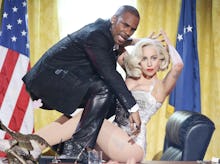 The 43rd annual American Music Awards kick off Sunday night, featuring live performances from Justin Bieber, One Direction and the Weeknd, among others. The show, which in recent years has become one of the most highly anticipated awards events of the year, will air on ABC at 8 p.m. Eastern, live from the Microsoft Theater in Los Angeles.
Jennifer Lopez, whose performance with Iggy Azalea at last year's show was one of the most talked about of the night, will be back on the stage as both host and performer. 
Justin Bieber, a seven-time AMA winner, will also perform Sunday night. The pop star, who just released his latest album, Purpose, will likely perform one of his latest hits, among them "Sorry," "Where Are U Now" and "Love Yourself."
Gwen Stefani will also making her return to the AMA stage. Her last appearance on the AMA stage was in 2012 with No Doubt. Stefani is expected to perform a song from her long-awaited third solo release.
It's not just Bieber, J-Lo, or the slew of other A-list performers (Nick Jonas, Demi Lovato, 5 Seconds of Summer, Coldplay...) on the schedule that the show is touting to lure viewers. 
The AMAs have also announced that — brace yourself here — over the course of the broadcast, Twitter will several unveil new emojis.
Yes. Twitter has partnered with the network to provide reaction emojis to celebrities, performances and the awards given throughout the night. A series of hashtags will allow users to access the teeny celebrity avatars. The hashtags include #BieberonAMAs, #GwenOnAMAs, #AriAMAs and #DemiOnAMAs, among others. (See, and commit to memory, the full list here.)
The American Music Awards can be live-streamed via the show's official site, as well as on ABC.com.