Jared Fogle's Subway Diet Blamed for Sex Disorder in Child Pornography Sentencing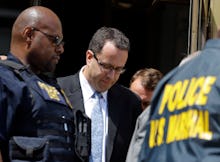 During Jared Fogle's sentencing Thursday at a federal court in Indianapolis for child pornography and sex crime charges, Fogle's psychologist Dr. John Bradford suggested that the former Subway spokesman's drastic weight loss may have caused him to develop hypersexual tendencies.
The comment came from tweets from reporters in the courtroom in Indianapolis:
Shortly thereafter, Dr. Rick May, who spent 100 hours over a four week period treating Fogle, took the stand.
In August, Fogle, 38, agreed to plea guilty in federal court to the charges against him, including the possession of child pornography and traveling to engage in illicit sexual acts with minors, according to Reuters. Fogle is expected to make his formal plea and receive his sentencing Thursday. The court case began at 9 a.m. Eastern, and local news affiliates have been live-blogging and Tweeting from the floor.  
Here's Mic's live coverage of Fogle's sentencing.