Will Adele '25' Stream Online? Singer Makes Big Decision on Apple Music and Spotify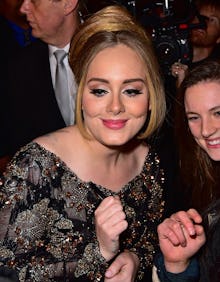 After reports circulated that Adele may keep her long-awaited album 25 off Spotify upon its Friday release, the answer has reportedly been confirmed — and it's even more restricting than expected. Three digital service sources told the New York Times on Thursday that the album won't be available on any streaming services, including Spotify and Apple Music. The news comes with less than 24 hours until 25 drops. 
A representative for the singer-songwriter declined the New York Times' request for a comment. According to a report on Nov. 12, knowledgable sources told the Verge that the singer was proposing keeping 25 off Spotify if it didn't agree to restrict its nonpaying users from streaming the album — a request that Spotify reportedly rejected. 
This won't be the first time a platinum artist keeps their music off streaming services. Taylor Swift took a stand the battle when she spoke out against Apple Music's policy to not pay writers, producers and artists during the three-month free trial the service offered when it launched in June. The artist also nixed her entire music library from Spotify upon the 2014 release of 1989 because she said artists don't get paid enough for each play (according to Time, artists receive between $0.006 and $0.0084 for each play.)
Other artists predated Swift's stand, with Rihanna keeping Unapologetic off the service in 2012 and Beyoncé avoiding putting her self-titled effort on in 2013. Adele herself kept her last album, 21, off the service for not acquiescing to a similar request that she made this time.
Adele's alleged move isn't only bad news for fans but for Spotify and Apple Music as well, considering Billboard named 21 the "greatest album" of all time. Her first single released in three years, "Hello," broke the record for most downloaded song in a week upon its release in October. Billboard reports that at least 3.6 million copies of 25 will be shipped to the United States, which tops any other album in the past decade.