Marijuana Legalization in Vermont 2016: Latest on Pot Debate and State of Legal Weed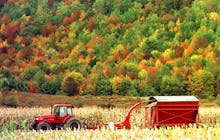 Vermonters paying attention to marijuana policy reform this week learned one thing for sure: There are two sides to every dime. Supporters of legalizing marijuana, who belong to a group call the Vermont Cannabis Collaborative, published a report on Wednesday that argues the economic benefits to legalizing the drug — among them creating 4,000 new jobs. 
"Vermont has a unique opportunity to define what this industry looks like," reads the report. "What if our cannabis economy became known for the same values that make Vermont unique: collaboration, innovation, community, creativity, environmental stewardship, healthy lifestyles and artisanal goods?"
The debate: Yet some Vermonters are fighting back against legalizing cannabis for recreational use, including an organization called Smart Approaches to Marijuana Vermont. "I really want to have a thoughtful conversation based on science," said Debby Haskins, the group's director, during a press conference in Montpelier on Tuesday, according to the Burlington Free Press.
Haskins and her group oppose the recreational use of marijuana because they believe it's a threat to public safety and that legalizing the drug would send the wrong message to minors. 
"I can drink a beer and I can safely drive a car home," said Vergennes Police Chief George Merkel at the press conference, according to the Burlington Free Press. "If I smoke a joint, can I safely drive a car home? The answer is no."
When could recreational marijuana be legalized in Vermont? State Sen. David Zuckerman thinks the state's got a fair shot of fully legalizing the drug. In February, Zuckerman introduced a bill that could see Vermont legalize marijuana by going through the State legislature. Though Vermont hasn't fully embraced a "green economy," it became one of 23 states (plus Washington, D.C.) to move in that direction by legalizing the use of medicinal marijuana in 2004. 
"More than 75 years of criminalizing marijuana has failed to prevent marijuana use," the bill reads. "A study published in the American Journal of Public Health found that no evidence supports the claim that criminalization reduces marijuana use."
"Responsible use of marijuana should be treated the same as responsible use of alcohol, the abuse of either treated as a public health matter, and irresponsible use of either that causes harm to others sanctioned with penalties," it continues. 
According to a January report from independent research organization Rand, 80,000 residents in Vermont are habitual cannabis users, and those Vermonters spend a collective $175 million per year on illegal marijuana. If the state were to change its laws, the black market for cannabis could translate to annual Vermont tax revenues on the order of $20 to $75 million, according to its report. 
What's more, a majority of Vermonters, or 54%, support the full legalization of marijuana, per a February poll by Castleton Polling Institute.
To date, only four states have legalized the recreational use of cannabis — Colorado, Alaska, Oregon and Washington — but many marijuana advocates believe more states are heading that way.
Democratic presidential hopeful and Vermont Sen. Bernie Sanders has been vocal about moving to decriminalize marijuana at the federal level. 
"Someone in the United States is arrested every minute on marijuana charges," reads a page on Sanders' campaign website. "Too many Americans have seen their lives destroyed because they have criminal records as a result of marijuana use. That's wrong. That has got to change."
Under his plan marijuana regulation, including punitive measures, would not fall under federal jurisdiction. 
"States which want to regulate marijuana would remain free to do so the same way local laws now govern sales of alcohol and tobacco," according to the Sanders campaign site. "Bernie would continue to allow federal law enforcement officials to arrest and prosecute drug dealers for trafficking in marijuana sales."