Facebook Will Now Keep You From Compulsively Stalking Your Ex's Feed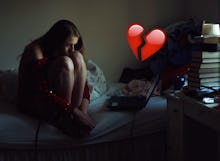 Facebook is about to make your insatiable urge to stalk your ex-bae a lot harder to satisfy.
In a blog post published Thursday titled "Improving the Experience When Relationships End," Facebook product manager Kelly Winters outlined the company's new plan to help you during your breakup. 
"Starting today, we are testing tools to help people manage how they interact with their former partners on Facebook after a relationship has ended," Winters wrote. 
Now, when you change your relationship status, you'll be asked to experiment with a series of tools for controlling how much of your ex's activity you can see on your feed. You can change how often you see an ex's name and profile picture, block their posts and remove them from that "suggested people" list that pops up when you post a status or tag a photo. As an added bonus, you can also edit which users see the posts in which you appear with your ex.
The option will be immediately available on Facebook mobile in the United States, but Winters noted that "we'll make changes and roll them out further based on people's feedback."
Given how important it can be to cut off all contact with an ex, Facebook's new option is an easy, cruelty-free way to cut off all reminders of what is probably an excruciatingly painful moment in your life. (Your ex isn't notified when you put these new settings into action.)
As Time reported in 2009, "the brain areas associated with the pain of romantic rejection were the same ones involved in reward, motivation, physical pain, craving and addiction." Constant reminders of an ex — like those scattered around a Facebook feed — can be like little nuggets of addictive substances.
Facebook, it seems, has recognized that breaking up is hard to do, and that we, as incapable and weak humans, find it impossible to stay away (unless you're one of those weirdos with an astronomical amount of self-control).
"This work is part of our ongoing effort to develop resources for people who may be going through difficult moments in their lives," she added.
Well, at least you have Adele's new record to keep you company.
Get the news everyone's talking about delivered straight to your inbox every morning by signing up for MicCheck Daily.