Adele '25': Album Lyrics, Tracklist Download and Purchase Options for New Record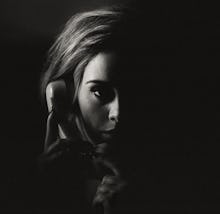 Hello, it's Adele: The British singer-songwriter released her highly anticipated album, 25, sending fans into a frenzy of downloading, obsessing over lyrics and track-list binging on Friday morning. 25 features 11 songs and focuses on Adele's growth as a woman, singer, artist and lover. 
The album has been a highly anticipated project for quite some time. When Adele's label announced a Nov. 20 release date several other artists decided to clear out of the way for fear their albums would be overshadowed by the singer's return to the spotlight. Full lyrics for 25 can be found via Direct Lyrics.
Though Adele's strength as a vocal powerhouse and ability to bring fans straight to tears clearly hasn't changed, 25 likely has the 27-year-old's most personal songs to date. "25 is about getting to know who I've become without realizing," Adele wrote in a message to Twitter posted Oct. 21. "Hello," the album's first single, seems to focus on life after a breakup, but the lyrics can also be seen as reconnecting with oneself after experiencing heartbreak:
"Hello, it's me/ I was wondering/ If after all these years/ You'd like to meet/ To go over everything/ They say time's supposed to heal you, but I ain't done much healing."
The album is not streaming via Apple Music, Spotify or Tidal, though it can be downloaded after purchasing via iTunes. Below is the track list to 25: