Philadelphia Marathon 2015: Race Map, Start Time and Photos From Last Year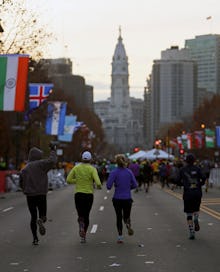 Marathon racers will take their marks in Philadelphia this weekend as thousands of spectators gather to watch and cheer on the athletes. The course will take participates on a winding 26.2 miles through Philadelphia's Fairmount Park, the city's historical district and along the Schuylkill River.
A number of smaller races will take place during the weekend, including a kid's "Fun Run" and the Rothman Institute 8K, which invites participants to walk or run the race, or compete in wheelchairs or handcycles. On Sunday, the half marathon and the full marathon will both begin at 7 a.m. Eastern. 
All events begin at the starting line on 22nd Street and Benjamin Franklin Parkway. Here's a link to the course maps.
According to a Philadelphia Marathon webpage for fans , spectators have a number of prime cheer spots to choose from. Check out the fan site's numerous list of landmarks and intersections to catch sight of the action, organized by mile marker and possible time range that racers might jet past. 
Per a statement posted to Facebook from the marathon's race director, Desiree Peterkin-Bell, event organizers are planning on heightened security following the Nov. 13 terror attacks in Paris. 
"Following last week's tragic events in Paris, we have received questions from runners and members of the public regarding security measures for our race this weekend," reads the statement. "The safety of our runners, spectators and staff has always been a top priority for the Gore-Tex Philadelphia Marathon."
"Our security plans regularly include coordination with local and national security agencies (The Philadelphia Police Department, Homeland Security, and others) to ensure that our event is as safe as possible," continues the statement. "As in prior years, attendees will experience strict security measures. On Sunday, the race Start/Finish area along the Benjamin Franklin Parkway will be a secure zone."
Here are just a few shots of the Philadelphia Marathon last year: