Working Out on Thanksgiving Is a Huge Trend — But This Is Why You Don't Have To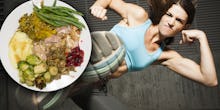 At Crunch gyms across the country Thursday morning, dozens of eager exercisers will turn up for the Turkey Burn N' Firm Ride, a 75-minute workout combining spinning and Pilates-based abdominal work. Only once they're finished can they head home to enjoy their holiday feasts. 
"It gives them a chance to get that burn in before Thanksgiving dinner," Justin Flexen, a regional group fitness manager at Crunch, told Mic.
Crunch is one location where the Thanksgiving workout has become a growing trend. Health-conscious folk all over the United States will scramble to schedule last-minute workout classes and one-on-one sessions with personal trainers on Thursday.
Boston resident Emily Leinbach is one of them. At 9:30 a.m. Thursday, she'll be heading to Title Boxing in downtown Boston for a special sign-up-only kickboxing class. When she's done working out, her family will swing by to pick her up, and they'll all drive to their family friends' in New Hampshire to celebrate the holiday.
"I work out every day, so especially on Thanksgiving when I'm going to be consuming an insane amount of calories, I want to feel good that I've gotten my workout in and can enjoy the food," she told Mic.
Florida-based trainer Olivia Figueroa credits the Thanksgiving workout to our society "becoming more and more aware of the health benefits of working out and staying fit," she told Mic. "Even though it is a holiday, people still will make the time."
A week before the holiday, Figueroa said her personal training schedule on Thanksgiving is already jam-packed from 7 a.m. to noon or 1 p.m. And at the studio where Figueroa teaches barre, spots are quickly filling up for the studio's so-called "Thanksgiving pre-feast" classes. "This year, it's been crazy," she said.
Working out on Thanksgiving has its benefits. The typical Thanksgiving feast is high in calories, especially for those partaking in the time-honored American tradition of eating oneself into a holiday food coma. If you work out hard beforehand — pushing your body to the point at which it needs to replenish calories — that meal can actually work in your favor. 
"Your body will be calling for those calories — you'll need them," Daniel Stransky, an expert trainer at DavidBartonGym, told Mic. DavidBartonGym's schedule is also fully booked Thanksgiving morning, and it's now hosting a special Thanksgiving Day fitness class, which is aptly titled "Carved."
Holidays are all about taking time for yourself. If working out makes you happy, by all means, hit the gym.
For those concerned with weight management, Stransky suggests a high-intensity interval training cardio circuit comprised of burpees, squats with overhead dumbbell presses, jump squats, sprints and rowing on the rowing machine. These types of exercises put your body into a state known as EPOC, or exercise post-oxygen-consumption. As with a lawnmower that continues growling after you yank the cord, EPOC causes your body to continue burning more calories than normal after you've left the gym. 
"You can make that meal work for you," Stransky said.
For the increasing number of Americans making fitness a part of their everyday routines, a Thanksgiving workout could also ensure you don't fall out of step.
"It keeps you on track with fitness goals," Flexen said. He also recommends working out the following Friday, Saturday and Sunday — days typically spent eating leftover pie and towering turkey sandwiches. 
"I think it's just a good way to kind of keep you going, so it's not like you have four days of not working out," he said. "It just kind of keeps you from sitting around and maybe overindulging."
It could even have positive psychological effects. "People kind of, maybe, feel a little bit less guilty if they go to the gym in the morning" before Thanksgiving, Figueroa said. "I feel like a lot of it is a mental thing."
Leinbach had a similar outlook. "It's really more for peace of mind than anything," she said.
But there's a big problem with Thanksgiving workouts. (Besides the utter misery of doing burpees, of course.) Sure, Thursday-morning exercise might compel some people to eat more healthily the rest of the day. But the idea that you can counteract the effects of a Thanksgiving meal with 60 minutes of exercise? Nope.
Do the math, Alexandra Miller, corporate dietician at Medifast, told Mic. "It takes an hour on the elliptical to burn 365 calories, but only five minutes to eat a piece of pumpkin pie with the same, if not more, calories," she said. "While a morning workout can help you burn off a few extra calories, it will not 'cancel out' your Thanksgiving feast." 
And for some people, Miller said, Thanksgiving exercise helps people rationalize eating even more.
That being said, Miller assured, "Taking a day off from your workout routine to spend time with family and friends will not wreak havoc on your health." 
One bad meal won't ruin your overall health, just like how one good meal won't magically make you achieve your fitness goals. "It's about consistency and having a long-spanning healthy diet throughout the year," Stransky said.
"It takes an hour on the elliptical to burn 365 calories, but only five minutes to eat a piece of pumpkin pie with the same calories." — Dietician Alexandra Miller
Holidays are all about taking time for yourself. If working out makes you happy, by all means, hit the gym. But if you'd rather stay home and maximize your family time, that's OK too. You need not follow in the footsteps of two of Figueroa's clients — a husband-and-wife duo who tag-team trips to the gym on Thanksgiving so the kids are never left unattended. 
And if you want to get some pre-turkey exercise but can't bear to leave your family, you can always make like New Jersey native Laura Gilson. "My whole family loves working out on Thanksgiving," she told Mic. "In the morning we all race the local [5K] Turkey Trot together, then play touch football and usually take the dogs for a hike up the local mountain."
Gilson said the morning exercise "starts the day off right. We all get endorphins, feel good and get fresh air," she said. "Plus, the football is hilarious — we are all awful, so lots of laughs."
For more useful lifehacks in your email inbox, sign up for the MicCheck Daily newsletter.