New ISIS Propaganda Video Threatens Attack on White House, Washington DC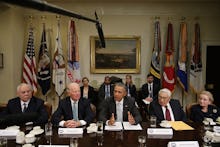 A series of propaganda videos purporting the Islamic State group, otherwise known as ISIS or Daesh, plans to attack major cities across the world are being released in the wake of the Paris terror attacks, which left at least 129 dead and hundreds injured. The latest, which surfaced online Thursday, comes from the Dijla branch of Daesh and claims the United States — specifically, the White House — is a major target for the terror group.
"We shall burn you with our suicide belts and our car bombs. We shall track you down wherever you go," an ISIS militant said in the video, which follows a similar video threatening to attack the heart of New York City. "We began with you, and we shall conclude with the so-called White House. We shall turn it even blacker than our fire by the will of Allah."
Authorities are reassuring Americans: The videos are, in part, responsible for fear of an imminent attack sweeping the nation. However, officials say the new propaganda doesn't provide any credible cause for concern and citizens should continue to go about their daily lives. 
New York Police Commissioner Bill Bratton downplayed the ISIS propaganda video showing New York as a potential target on Thursday, saying the video wasn't even produced well. "Been there, done that," Bratton told CBS. "It appears to be a very hastily produced document that contains previously viewed video, so it didn't really change our stance at all."
The video threatening Washington, D.C., is titled "Paris Before Rome," according to Fox News, though the publication reports the video's credibility is still being investigated. It lasts six minutes and shows video of militants firing weapons, as well as more than a minute of French news coverage of the attacks in Paris and further threats to France, its president and other countries as well. 
It's also the second video in a 24-hour period released by the terror group specifically threatening to target the United States. A security notice published by the U.S. Embassy in Rome earlier on Thursday warned Americans in the region "terrorist groups may possibly utilize similar methods used in the recent Paris attack," and encouraged U.S. citizens "to remain vigilant and aware of their surroundings," as well as to stay on top of the latest news and information surrounding any terror threats.