Tupac Is About to Become the Subject of a Confusing, Low-Budget Chinese Biopic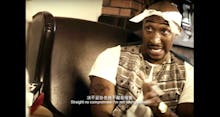 Tupac has been rolling in his grave for the past six years. The West Coast legend has watched from the afterlife as all his former rivals had their legacies immortalized on the big screen. His own role, however, is constantly reduced to cameos. He appeared for a scene in 2009's Notorious biopic and in this year's Straight Outta Compton. They were great scenes. Yet his own biopic has yet to materialize with an official authorized film, in the works for years, still stuck in production hell.
It seems opportunists have begun working to fill this void. A few weeks ago, a trailer for an upcoming, unauthorized Tupac biography leaked on the Internet. This is not the Tupac homage that audiences or the rapper's estate have been waiting for; it's hilariously low budget. However, if the trailer turns out to be legitimate, it might, against all odds, become the first full-length film on the rapper.
The trailer claims to be based on a true story. From what can be gathered from the highly disjointed trailer, the film will follow a young Chinese student, Dean Xue, as he attempts to prepare a report on the rapper. Xue's absurdly mustached teacher suggests he contact a Ms. Bush, who seems to have had a romantic relationship with the rapper at one point. She shares some of her personal footage and memories of the rapper — which actor Tsalta D. Baptiste manages to somewhat convincingly re-enact. 
Things start going off the rails when it tries to raise the stakes. Somehow, Xue manages to take his project too far, with classmates warning him that whatever he's doing is dangerous. He has run for his life for some reason at one point. It all gets very messy. However, poorly edited clips of Tupac dancing in Bush's recollections bring it all back down to Earth.
Baptiste has been practicing his Tupac impersonation for some time now. His Instagram shows video clips of him practicing the rapper's inflection and flows as an audition for the film. It seems the film's director "Motion Picture Director Steven Cheng," as Baptiste describes him on Instagram, chose him for the part five weeks ago.
Baptiste did not return Mic's request for comment by the time of publication. For now, the trailer is all we have about this very strange project. Watch the full trailer below: