R. Kelly 'The Buffet': Download and Streaming Options, Track List and Lyrics for New Album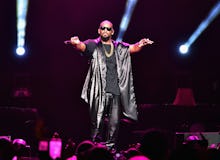 It's as if R. Kelly has been in hiding since his twelfth studio album, Black Panties, was released in 2013: or, perhaps he was just trapped in yet another closet. The 48-year-old rapper dropped his 13th album titled The Buffet earlier this week, available for streaming on Spotify, Apple Music and for download on iTunes. 
The album, which has 18 songs, features verses from fellow rappers Ty Dolla Sign, Lil Wayne, Juicy J, Jhené Aiko, and Tinashe. 
Below is The Buffet's song track list from Spotify.
In anticipation of The Buffet, Kelly released the first single from his forthcoming album on Oct. 20 via YouTube, titled "Backyard Party." The song carries an upbeat tune and the lyrics center around a summer barbecue, living good and enjoying life:
"Everyone's happy/ Finally it's the weekend/ All the hard work's behind me, yeah/ And I just invited all my friends/ I'm bout to throw something on the grill/ And get together and play some cards, yeah/ A couple of drinks, something to smoke and do our thing/ No one's got hatin' in their hearts."