Once the Media Accepted Caitlyn Jenner as a Woman, They Started Treating Her Like One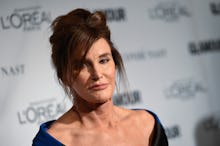 How does the media really treat women? 
This year, Caitlyn Jenner offered herself up as an unwitting case study for that question. Jenner might still be settling into her public identity, but for the press, it's already decided: Since Jenner's a woman, she's going to get the exact same scrutiny of her looks as pretty much every other woman.
And like so many other famous women, the focus on what Jenner wears threatens to drown out the rest of the work she does.
From the outset, striving to be an activist: Jenner has been front and center on the international stage ever since she came out as transgender and debuted as "Caitlyn" on the cover of Vanity Fair in June. From the beginning, Jenner has made her activist intentions clear, recognizing her opportunity to act as a spokeswoman for a cause that's only recently come to the attention of the general public. 
That was evident from her first public appearance after coming out, when she was honored with the Arthur Ashe Courage award at the 2015 ESPYs. During her powerful speech, Jenner that acknowledged her role in the spotlight can serve a greater purpose.
"I know I'm clear with my responsibility going forward, to tell my story the right way, for me, to keep learning, to reshape the landscape of how trans issues are viewed, how trans people are treated," Jenner said. "And then more broadly to promote a very simple idea: accepting people for who they are. Accepting people's differences."
That streak of activism continued during the summer, as Jenner sought to learn more about the plight of transgender people, an issue she had admittedly been distanced from her entire life. Her E! show, I Am Cait, has documented her journey to become an activist while acknowledging the degree of privilege she's experienced. 
This month, Glamour honored Jenner for her efforts at its Women of the Year awards this month, where she reaffirmed her positive intentions. "Maybe this is why God put me on this earth," she said on stage. "To tell my story, to be authentic to myself about who I am. And maybe in doing that, maybe you can make a difference in the world."
Yet, for all the speeches, the focus is on looks: Mentions of Jenner in the press — good or bad — are often accompanied by a subtle mention or an outright fixation on how she looks in a dress, whether she has cleavage or is wearing a mini skirt. No matter the topic or event, it's her beauty and her outfits that remain a focus for press. 
It's a fate so many women in the Hollywood spotlight face. Take Amal Clooney (née Alamuddin), who was already an established international human rights lawyer and lauded for her work with the United Nations when she got hitched to actor George. Not only is Amal Clooney's work often overshadowed by her husband; when she is in the headlines, it's pretty much all about her clothes. 
The same can be said of Jessica Alba's work as a successful entrepreneur or Jessica Simpson's billion-dollar fashion business, which are not mentioned nearly as much as their red carpet looks.
Indeed, it had been barely a month since Caitlyn made her debut, and Jon Stewart's prediction had already come true. His remarks in a Daily Show segment in June made it clear: "You see, Caitlyn ... now you're a woman, and your looks are really the only thing we care about."
The headlines have confirmed as much, in a turn all the more stark because the fashion coverage about Jenner essentially went from zero to 60. In October, at a celebration for her daughter Kendall, Jenner's dress received plenty of mentions. An Us Weekly article crowed, "Kris [Jenner] was dressed in a short, crystal-encrusted Balmain minidress, while Caitlyn opted for all-black, in a sexy, skintight gown with sheer panels on one side."
That same black dress with its see-through paneling also got the attention of TMZ, though with a different reaction: "She's 66, but those ta-tas are damn near brand new." The photo shown? A cropped, close-up of Jenner's breast.
Jenner doesn't have an issue embracing the "fun" sides of being a woman, making mentions about makeup and outfit choices in various interviews and speeches. As she noted to BuzzFeed "The hardest part about being a woman is figuring out what to wear." 
That comment, interpreted by some as flippant, earned Jenner criticism from actress Rose McGowan, who said that Jenner didn't really understand "what being a woman is about at all."
But if the past eight months have shown anything, it's that since coming out, Jenner has experienced at least one common female experience. In her Glamour Women of the Year speech, she said that she was suddenly faced with a barrage of questions after coming out. "What's your style? What are you going to wear? Who are your heroes? Are you a feminist? All these questions, and I said, 'Oh my God, I have so much to learn,'" she said.
That includes learning what it's like to be reduced to clothes and looks by gawking onlookers. The sudden scrutiny we witnessed this year of Jenner's hair, makeup, outfits and, yes, body should be our starkest piece of evidence yet of how irrationally and unfairly women in the public eye are often treated, and why we need campaigns like #AskHerMore.
Perhaps, along with all her activism on behalf of transgender rights and empowerment, Jenner will also help us reexamine how we treat women.