As Many as 27 Reported Dead After Gunmen Took 170 Hostages at Mali Hotel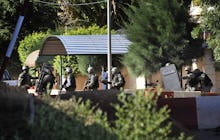 At least two dozen people are reportedly dead after armed gunmen stormed a hotel in Mali taking 170 people hostage Friday morning. The attack occurred at roughly 7:30 a.m. local time at a Radisson Blu hotel in the capital of Bamako. 
Numerous outlets are citing a statement from the United Nations, which says U.N. peacekeepers on the scene have reported seeing as many as 27 dead. The U.N. reports that two jihadis are dead, though it is not clear whether the organization is counting them among the reported 27. 
As of 3:30 local time, eight hours after the strike becan, the Agence France-Presse cited Mali's security minister who said the gunmen were "holding no more hostages." 
According to reports posted to Twitter, French and United States special forces were involved in the rescue efforts. 
Hostages were initially released by the gunmen if they could prove they were Muslim, and 90% of hotel staff had been allowed to leave safely. By the end of the strike, 76 hostages had been freed by security forces. 
The BBC and others report that as many as 10 gunmen stormed the hotel chanting "Allahu Akbar" ("God is great"). Malian soldiers are reportedly on the scene. According to Reuters, al-Qaida has taken responsibility for the attacks.Yahoo News reports it was a northern Mali al-Qaida-affiliated group, al-Mourabiton, which claimed responsibility via Twitter. Neither claim of responsibility has been verified. 
According to hotel pastry chef Kamissoko Lassine, the men were able to infiltrate the hotel using false diplomatic credentials.
"They were driving a vehicle with diplomatic plates," he told the New York Times. "You know how easy that is at the hotel? The guardians just lifted the barrier." 
The Radisson Blu, part of the U.S.-owned hotel company, is a popular watering hole for foreigners in Mali; American, French, Chinese, Turkish and Indian citizens are known to be among the hostages. 
Though often overshadowed by the Islamic militant presences in Nigeria and the Middle East, the West African country, a former French colony, has also waged its own fight against terrorism. In 2012, militants briefly took over much of northern Mali, including Timbuktu, and were only ousted after French military intervention. In August militants in Mali killed 13 people during a hotel attack in the city of Sévaré.
The attack is the latest in a string of global terrorist attacks around the world, including those in Nigeria, Paris and Beirut. All, so far, have originated from ISIS or ISIS-aligned groups. 
This is a developing story and will continue to be updated.