Trump Says "Security Is Going to Rule" After Paris, Doubles Down on Muslims "Database"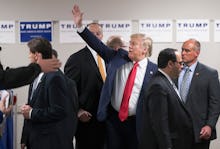 Republican presidential front-runner Donald Trump doubled down on comments that he would be open to a national database to track American Muslims in the wake of terrorist attacks in Paris that left at least 129 dead and hundreds injured.  
"I would certainly implement that. Absolutely," Trump told NBC News on Thursday at a campaign event in Newton, Iowa. "There should be a lot of systems, beyond databases. We should have a lot of systems." 
When NBC asked Trump to explain how his database would differ from Nazi tracking of the Jews in Germany, he offered only a cryptic "You tell me." Trump ignored further questioning from NBC reporter Vaughn Hillyard when Hillyard asked whether Muslims who did not register would face ramifications.
The latest Trump storm shows how even after months of dominating the polls and national news with outlandish claims and bizarre behavior, he can still dial up a controversy. The Iowa imbroglio was the follow-up to a long interview with Trump published by Yahoo News on Thursday in which he called for sweeping and undefined measures to be taken against the U.S. Muslim community.
"We're going to have to do things that we never did before," Trump told Yahoo. "And some people are going to be upset about it, but I think that now everybody is feeling that security is going to rule. And certain things will be done that we never thought would happen in this country in terms of information and learning about the enemy. And so we're going to have to do certain things that were frankly unthinkable a year ago." 
In addition to the database, Trump would not rule out identification cards for Muslims as well as warrantless searches of mosques, or just closing them down outright. In a statement to the Washington Post, however, Trump said he would oppose any measures for a national gun owners database. On that issue, he said "the Constitution of the United States is clear." 
Trump's latest comments inspired passionate denunciations of the candidate on Twitter, including one from Judd Legum of ThinkProgress, who reposted an especially salient statement from the United States Holocaust Memorial Museum in Washington, D.C.
With the next Republican presidential debate set for Dec. 15, the arguments surrounding terrorism, refugees and American Muslims are likely to take center stage at the event.