'Adele - Live in London:' How to Watch BBC Concert Special in the US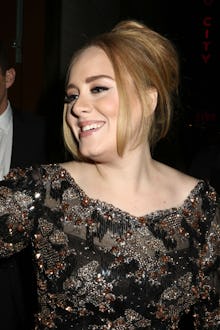 For Adele fans, Friday is a big day. 25, the third studio album from the 27-year-old British songstress hits shelves Friday, and the hype is through the roof. A live performance hosted by the BBC at 8:30 p.m. Friday in the U.K. — 3:30 p.m. Eastern — will add to the excitement. The hourlong special, Adele - Live in London, will be available "shortly after broadcast" via BBC One; here's how to watch BBC special in the United States. 
Adele - Live in London will mark Adele's first televised appearance since she performed at the 85th Academy Awards in 2013. The BBC is capitalizing on the milestone, and has sold the special to networks around the world, including TV stations in France, Australia, New Zealand, Ireland, Belgium, Spain, Canada, the Netherlands, Finland, Norway, Italy, Germany and Sweden, according to the Hollywood Reporter.
Adele will also discuss her career in the special.
Though 25 is expected to ship in near-record breaking quantities, some fans were disappointed to learn it wouldn't be available to stream on Spotify on the day of its release; the album is available for purchase via iTunes for $10.99.
Despite the frenzy around the release, Adele is smart enough to stay above the fray. "My career's not my life," Adele told Rolling Stone in an interview earlier this month. "It's my hobby.
"People think I hate being famous. And I don't. I'm really frightened of it. I think it's really toxic, and I think it's really easy to be dragged into it."
Update: Nov. 26, 2015 at 3:15 pm. E.T
Adele has announced a tour in the UK. For dates and ticket info click here.
The track list for 25:
1. "Hello"