This 25-Year-Old Model Battling Cancer Is Proving Just How Beautiful Bald Can Be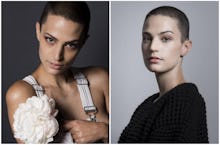 Meet Dayna Christison.
She's 25 years old. 
She's walked in New York Fashion Week. 
And she's battling cancer. 
When Christison was 22, she was diagnosed with nodular sclerosis Hodgkin lymphoma, a type of cancer. At the time, doctors told her it was stage two cancer, but later she learned that it was more like stage four. 
For the past three years, Christison has put up a fight against her disease with chemotherapy and two stem cell transplants, and she's now undergoing a clinical trial. But through all of that, she made a leap into the modeling industry. Part of her motivation to do so was that once she lost her hair, she realized there weren't any good role models for girls rocking a bald head. 
"I refused to wear a wig or a scarf because, fuck everyone else, that's how I looked and I didn't want to hide that because of what other people thought," Christison told BuzzFeed.
Around the time of her second stem cell transplant, a friend asked to take her picture. He posted it online, and industry insiders started to take notice.
"When he started posting the photos I got a bunch of photographers that were really interested in working with me," she said. "Mind you, I was straight bald at this point."
Christison ended up signing with Major Models this summer and since then, she's appeared in ad campaigns for Urban Outfitters and walked in buzzed-about New York Fashion Week shows like Eckhaus Latta. 
Her increasing visibility in the industry has led to a fanbase of grateful women who, for the first time, can see a woman battling cancer killing it on the runway as hard as any Jenner or Hadid. 
"It was one of the most amazing feelings I've ever had to have someone say that I helped them feel more confident because of my confidence," she told BuzzFeed. "I decided then that I needed to do this to help anyone I can feel even a little bit more secure in such an insecure time in their lives."
With all the souped-up, big-haired models dominating the industry (think Adriana Lima and Kate Upton), having short-haired role models can matter. There were a few more models creeping onto runways with short hair this season. And most recently, actress Clare Bowen, who was diagnosed with end-stage nephroblastoma as a young girl, cut her signature blonde curly locks to show that having short hair doesn't mean you can't be a princess.
Now with Christison on the runways and in ad campaigns, women have yet another person to look up to who is strong, talented, and just happens to be bald. 
h/t BuzzFeed