The Most Effective Solution for Ending Violence Against Women May Be Women Themselves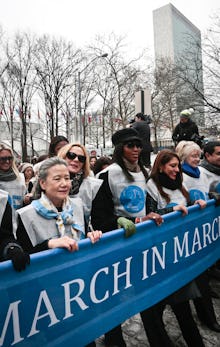 On Wednesday, the International Day for the Elimination of Violence Against Women, the United Nations will launch a campaign that seeks to "galvanize action" for the cause. While many previous efforts have focused on fundraising or targeting politicians, the UN's campaign focuses largely on global collective action — an approach one study suggests may be the most powerful tactic of all.
The 2013 World Bank study found that local grassroots feminist movements may be more capable of creating positive change with regard to violence against women than through traditional sources of power, like "the wealth of nations, left-wing political parties or the number of women politicians," Feministing wrote Thursday.
The study examined 70 grassroots women-led groups over the course of four decades and concludes that collective action is "an important demonstration of agency and it can lead to progress in other areas of women's lives," adding that "such processes are a vital contributor to efforts to promote agency and empowerment."
This scope of the study is all the more impressive given the widespread nature of the problem it addresses. About 1 in 3 women experience physical or sexual violence in their lifetime, often at the hands of an intimate partner, according to UN Women. What's more, the World Health Organization reports that intimate partners commit as much as 38% of murders of women globally. The resulting physical injury is often compounded by unintended (and potentially unsafe) pregnancies and sexually transmitted infections, as well as psychological issues like depression, PTSD and even suicide attempts, according to the report.
If grassroots organizing is indeed the most effective answer, it could empower more women to report their assaults to authorities. As it stands, less than 10% such victims turn to the police for help, opting rather to seek out friends and family for help, UN Women reports.
While this mobilization is necessary, the report reminds people that change will likely be gradual.
"Changes in social norms often follow a slow, non-linear trajectory," the authors conclude. "There are no silver bullets, but treated flexibility and within context, collection action processes are a vital contributor to efforts to promote agency and empowerment."
People interested in participating in the conversation on Twitter can use the UN Women hashtag #orangetheworld.
h/t Feministing