Adele and Bruno Mars' "All I Ask" Gives the Entire Internet All the Feels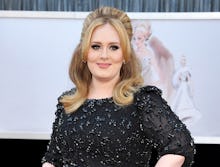 Adele's much anticipated third studio album, 25, was released Friday. In it, she does what she does best — cuts to the core of her audience with human ballads charged with sentimentality. One track in particular, "All I Ask," which she wrote with Bruno Mars, tugged on the heartstrings of fans everywhere.
"I will leave my heart at the door," Adele sings. "I won't say a word/ They've all been said before/ So why don't we just play pretend/ Like we're not scared of what's coming next or scared of having nothing left."
With "All I Ask," Adele and Mars have clearly hit a nerve. Though Adele splays her heart across all the tracks, "All I Ask" leaves listeners with a solid sense of accepting love lost, and dredges up the dreadful finality that resignation brings with it. However, the lyrics drop listeners right into the quiet moments that precede resigning to the end of a liaison. In essence, the song arrives at an emotional plane that's devastating yet utterly relatable.
Reacting to "All I Ask," Adele fans on Twitter were beside themselves.
Once fans on Twitter began to recover from the initial emotional devastation of "All I Ask," many pointed out the masterful musicianship.
"Now, don't get me wrong," Adele continues on the track. "I know there is no tomorrow/ If this is my last night with you/ Hold me like I'm more than just a friend/ Give me a memory I can use/ Take me by the hand while we do what lovers do/ It matters how this ends.
"'Cause what if I never love again?" she adds, as listeners fumble for tissues.
Adding to the grief of "All I Ask," fans were chagrined to learn that 25 would not be streaming on Spotify. But it's available for purchase via iTunes for $10.99. For those with nerves of steel, or for emotional masochists, here's footage of Adele performing "All I Ask" live at Radio City Music Hall on Tuesday in New York City:
Correction: Nov. 20, 2015