NYPD Chief Speaks Harsh Truth About What Islamophobic Policies Really Accomplished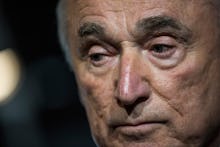 In the wake of the Nov. 13 terrorist attacks in Paris that claimed at least 130 lives, U.S. politicians have been figuratively climbing over one another to see who can be less welcoming to Muslim refugees from Syria and Iraq.
Fearing an attack on U.S. soil, many have suggested measures to quell, restrict or otherwise monitor Muslims in or entering the United States — a position that, ironically, is the opposite of how France is approaching the issue in the aftermath of the violence.
Yet as mayors, governors, candidates, congresspersons and President Barack Obama debate the merit of a more stringent refugee policy, preventing an attack will ultimately fall to homeland security officials and local law enforcement.
More than half of America's state governors have come out in opposition to letting refugees settle in their states at all.
When New York City Police Commissioner William Bratton faced questions Thursday about security measures targeting Muslims, he gave a simple answer:
We tried that before. It didn't work.
From 2003 to 2014, the NYPD housed the controversial Demographics Unit, dedicated to surveilling the Muslim communities of the New York metropolitan area. Plainclothes officers were dispatched to mosques, bakeries and community centers to eavesdrop and seek out intelligence that might hint at future terrorist attacks.
In those 11 years, the squad learned as much about terrorism as most people who hang out in mosques, bakeries and community centers do: nothing. So when Bratton disbanded the unit in April 2014, it was with the embarrassment of a department hanging over his head. 
On Thursday, when asked why he had killed the program, Bratton confirmed the unit's ineffectuality, stating, "not one single piece of actionable intelligence ever came out of that unit in its years of existence."
Bratton went on to say the NYPD has "the most robust counterterrorism entity in the United States," a 1,000-person cadre with a plethora of tools at their disposal, citing "social media, use of informants, development of relationships" and more. He insisted that screening every refugee who enters the United States using the FBI would be a strain on resources.
"The FBI is an organization that is currently stretched to the limit just trying to deal with the terrorists — let alone trying to deal with an expanding pressure on them to guarantee the people that they're charged with screening are, in fact, not terrorists," Bratton said.
But that hasn't stopped Islamophobic or anti-refugee rhetoric from proliferating across the United States.
On Nov. 16, media bigwig Rupert Murdoch suggested that Obama be cautious about letting in refugees who aren't "proven Christians." Republican presidential candidates Jeb Bush and Ted Cruz have spoken in support of this distinction, while the remaining 12 GOP candidates have said they'd stop letting in refugees altogether. More than half of America's state governors have come out in opposition to letting refugees settle in their states at all. And Donald Trump has gone so far as to say he'd make all Muslims living in the U.S. "register" in a database.
Donald Trump, another Republican presidential candidate, has gone so far as to say he'd make all Muslims living in the U.S. "register" in a database.
On Thursday, the House of Representatives voted to block refugees from entering the United States until more strict — and likely impossible to implement — security measures are in place.
Among the measures was the requirement that, for a refugee to gain admittance to the country, he or she must be approved by the FBI director, the director of national intelligence and the head of the Department of Homeland Security. The bill now moves to the Senate, despite a veto threat from Obama. Should the Senate pass the bill with a same two-thirds majority as the House did, Obama's ability to veto would be overridden. 
Meanwhile, white supremacists remain the biggest existing terrorist threat to American national security, according to a recent study from the New America Foundation. Since 9/11, almost twice as many people have been killed by these groups and individuals than by Muslim jihadists.
h/t WCBS