This Pageant for Women With Disabilities Is Redefining Beauty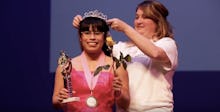 Living with a disability is a relatively common experience, yet myths about these experiences still persist today. And the population, which composes 1 in 5 of all people in the United States, according to a 2012 census, remains overwhelmingly marginalized and underrepresented. 
The organization Miss Amazing hopes to change that. 
But they're taking an untraditional and perhaps unexpected route to doing so: pageants. 
The Miss Amazing pageant: Jordan Somer had already been competing in beauty pageants for several years when she volunteered for the Special Olympics at age 12. Inspired by the experience, Somer — who would go on to become Miss Nebraska Teen — decided to share what she had gained from pageantry with this community. In 2007, she organized the first Miss Amazing pageant, which seeks to "provide opportunities for girls and women with disabilities to build confidence and self-esteem in a supportive environment," according to its website. 
Any girl or woman age 5 or older who meets the government's legal definition of having a disability can participate in the pageant — which is now held in 30 states — and the cost to join is an act of paying it forward: Participants must donate five cans of food, which are then distributed to food banks, according to the pageant's website.
Unlike mainstream pageants, however, Miss Amazing de-emphasizes individual, beauty-based competition in favor of a framework that supports individuals sharing and building their skills, according to Miss Amazing state director for New York Melissa Felson. Each girl is paired with a volunteer "buddy" based on their shared interests and given the opportunity to participate in activities like interviews, public speaking and an optional talent portion, Felson told Mic.
This process results in a largely unparalleled opportunity for participants to "celebrate themselves and really shine," Felson told Mic. Not only does the experience allow the girls to "build their self-confidence, face their fears and [feel] accomplished after it," Felson added, but importantly facilitates relationships with other participants and volunteer buddies that last long after the pageant ends.
"The girls weren't competitive; we were all there having fun," 23-year-old Katherine Urena, who was born with muscular dystrophy and who participated in the 2015 New York Miss Amazing pageant, told Mic. "It was nice meeting other girls with disabilities. Nobody cared about who was going to win."
Felson also said that winning isn't emphasized. While a "queen" is selected from each group, they're considered "representatives" who go on to participate in events like the Disability Pride Parade in New York City and present the canned food girls donate in order to participate in the pageant to food banks, Felson explained. 
"None of it is based on beauty or eloquence," she said. "Everything is really sort of based on how that individual accepts herself and shows that she loves who she is despite any difficulties she has."
Redefining beauty: While the pageant may be based on a model traditionally centered on beauty, Miss Amazing works to redefine beauty as centered on self-esteem and confidence rather than physical appearance. 
"A lot of girls with disabilities feel like outsiders, and I feel like the pageant shows the girls that they too can feel amazing about themselves," Urena said. A crucial element of that, she added, is the pageant's emphasis on public speaking. 
"A lot of people with disabilities are scared to speak out, so it teaches us public speaking and how to interact with others," Urena said. "That's important because it brings us out of our comfort zone."
While the pageant de-emphasizes physical beauty, the fact that it counters an age-old standard of beauty that values being able-bodied is also important.
So many participants "do look different from other girls, and they're aware of that," Felson acknowledged. "We can't ignore that," she added, noting that this pageant offers an opportunity to reinforce that "there is no one standard of beauty and that each of them is really beautiful in their own special way."
This pageant notably adds to a wave of recent efforts to similarly redefine beauty in more inclusive terms. In September, 18-year-old Australian model Madeline Stuart — who has been dubbed the first adult professional model with Down syndrome — walked in a New York fashion show. Other models with disabilities, like Kayla Kosmalski and Rebekah Marine, were also featured in high-profile fashion campaigns this year.
Miss Amazing's goal is to build on the example such role models offer and to teach girls with disabilities that not only is there "no one standard of beauty" but that "each of these girls has their own way that they are beautiful," Felson said.
Moving past physical beauty altogether: Miss Amazing's benefits extend beyond the pageant in and of itself: It also serves as a bold, public affront to damaging stereotypes about individuals with disabilities that persist in general. For example, while many people think that individuals with disabilities "don't have anything to offer and that they're dependent," as Felson put it, the pageant showcases the opposite. 
"They dance, they sing, they're involved in volunteer organizations, they're hardworking," Felson said. The pageant provides a space to highlight this type of "wonderful work that people with disabilities do despite the obstacles they face every day" and offers them opportunities to develop these skills and "become more independent." 
And hopefully, many organizations will continue to join Miss Amazing in doing this work.
"There should be other organizations that bring girls with disabilities together," Urena concluded.
Watch a video about Miss Amazing below: