Adele's '25' Proves the Nostalgic Power of Simplicity in Pop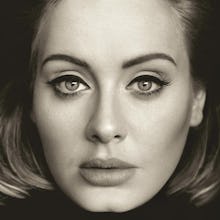 Adele's 25 has been out less than 24 hours, but its songs feel like they've been floating through our cultural consciousness for something closer to 24 years. Despite its timestamp, pinning it to a specific year in Adele's life when her son was born, the record is decidedly timeless.
At one time, this agelessness makes 25 the most idiosyncratic release to hit pop in years. Nothing about it feels current or on trend. There's only one bouncy, production-driven number, "Send My Love (To Your New Love)," produced by one of modern pop's most decorated hitmakers, Max Martin. The rest of the album is torch songs and Elton John-esque ballads. Nearly the entire album sounds as sepia-toned as the "Hello" video, and its nostalgic sounds are only amplified by lyrics dealing with the people Adele "used to know" and the people she "used to be."
At the same time, it's the quintessential platonic ideal of what pop albums have been ever since the beginning of recorded music. The songs are simple — to the point of being "ordinary" for some critics — yet they're extraordinarily universal. Like a horoscope, anyone can look at what at first appears to be a highly specific character sketch and somehow always find something of their self in it. 
Adele is well aware of what she's doing. She plays with this tension between the personal and the universal throughout the album, all of her meditations firmly grounded in the past. On "Million Years Ago," she meditates on how her life has changed with fame. However, she never dives into specifics about paparazzi or Twitter trolls to try to speak to a specifically 2015 audience.
"I know I'm not the only one," Adele sings. "Who regrets the things they've done/ Sometimes I just feel it's only me/ Who never became who they thought they'd be."
Instead of modern flash and flair, Adele is interested in what's eternal. "Give me a memory I can use," she sings on "All I Ask." "Let this be our lesson in love/ Let this be the way we remember us." The album is a tool to help bring listeners back to a time and place where life and love seem simple — while acknowledging the fact that the return is anything but.
All these nostalgic meditations sit over some of the most stripped-down and traditional instrumentation we've heard in pop in years. It only magnifies the album's ability to provoke warm, nostalgic feelings in its listeners. 
Compared to the majority of the songs on Billboard's Hot 100, Adele's first single, "Hello," currently sitting at No. 1, sounds gloriously primitive. It features piano, light percussion and Adele's sweeping voice — a song that could have existed in the early 19th century.
It's become a signature Adele formula, though it's worked spectacularly well for several breakout artists in the past few years. Ed Sheeran broke several records with his largely acoustic X, earning the title of longest-running No. 1 album in the United Kingdom since Adele's 21. Sam Smith has sought the same nostalgic pop sound, earning himself a label as the "male Adele." Pharrell's "Happy" became a similar sensation by stripping pop back to its acoustic roots in 2013.
"Sometimes I wish I had it in me to attempt to evolve record-by-record like legends do," Adele told Zane Lowe at Beats One Radio. "But I don't think I could pull it off. There's only one Madonna."
In a world in which ceaseless innovation is the accepted norm in just about every industry, there's something extraordinarily refreshing about an artist determined not to make cutting-edge music. However, when Adele's music has proven its ability to move listeners time and time again, what new element does it need?
"If my music can heal anyone's heart, then that is, like, the most satisfying thing ever," Adele told Rolling Stone about the aims of her new record. All that comes from her being as honest and open with herself and her feelings as possible. This is how one builds that universal pop connection. 
"In most cases, it's about the song that reminds them of something in their lives," Adele told Rolling Stone. "They take you into their heart." With the record-breaking stir she's caused in the past few weeks, it's clear that's where her music lives with listeners.