'Jessica Jones', Marvel Adaptation, Premieres on Netflix — Here's the Internet's Reaction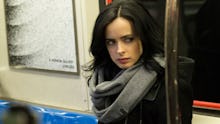 On Friday, Netflix released Jessica Jones, a series that follows private eye and classic comic book superhero Jessica Jones, and reports of binge-watching have already begun circulating.
The series features Krysten Ritter (Breaking Bad, Don't Trust the B in Apartment 23) as Jones, who developed superpowers as a young girl when her family's car crashed into a military truck carrying — you guessed it — radioactive materials.
Jessica Jones is based on Marvel's Alias series, but, according to Wired, it's more noir than the mainstream superhero epics with which audiences are familiar. "Downtrodden detective stories, blaxploitation tales, psychological horror, fun-filled supernatural romps," Wired's Graeme McMillan wrote of the Marvel comic. 
Suffice it to say, America is hooked.
Complete the entire first season in less than 24 hours? Challenge accepted.
Anecdotal evidence shows a direct negative relationship between the release of Jessica Jones and employee productivity.
If you're looking for "Bruce" this weekend, you know where to go. 
Your vote matters.
Jessica Jones isn't the only gift from Netflix for November. Earlier this month the streaming service released Aziz Ansari's long-awaited comedy-drama series Master of None.