Miley Cyrus Kicks off 'Dead Petz' Tour With NSFW Outfits and Prosthetic Penises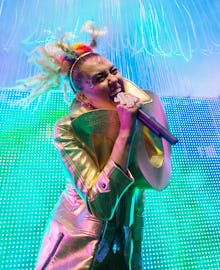 Miley Cyrus delivered the inaugural concert of her Milky Milky Milk tour on Thursday at the Riviera Theatre in Chicago. The ex-Disney star and world-famous musician is hitting the road with indie megaband the Flaming Lips to promote her most recent record, Miley Cyrus and Her Dead Petz, which the Flaming Lips helped write. The mostly sold-out tour will hit a number of states across the nation, and Detroit's Saturday concert is next on deck. The cities Cyrus and company will hit are in for a show that apparently includes no shortage of near-nudity or prosthetic penises.
And that's apparently what the people want. "Due to overwhelming demand, two new shows have been added to the Miley Cyrus and Her Dead Petz Tour," according to a press release published on Nov. 6. The crew added Los Angeles and Vancouver, British Columbia, to its lineup.
Concert-goers at Thursday night's Chicago show documented some of the costumes on stage, and shared the photos on social media.
Why so naked? According to an Instagram post by Wayne Coyne, lead vocalist for the Flaming Lips, the reason for the nudity on stage is to promote a video for one of the tracks on Miley Cyrus and her Dead Petz. 
"Oh fuck,"  Coyne captioned the post. "Miley Cyrus is planning a show where her, the band (us) and the audience are all completely naked with milk (well white stuff that looks like milk) is being being spewed everywhere. It's a video (in the works) for ... 'Milky Milky Milk.'"
Coyne later teased the video with a clip posted to Instagram. Cyrus highlighted the tour on Instagram with photos of what appeared as part of her costume on stage. 
Tickets and tour dates: For a full list of tour dates, fans can head to Cyrus' website, which details the days and locations of each show. Despite the additional tour dates added earlier this month, all of the upcoming performances are sold out — except for the show in Vancouver on Dec. 14.
Here's a series of photos captured during the performance in Chicago Thursday night: