These Photos Reveal the Sweaty, Awkward Side of Yoga That Instagram Doesn't Show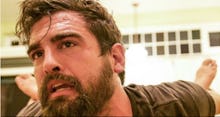 At this point, we're all pretty hip to the fact that on Instagram, nothing you see is real. From Photoshopped makeup to posed "candid" shots to not-so-subtle product placement, Instagram is increasingly becoming a stream of unreality.
Photographer Jonah Sargent is sick of it. More specifically, Sargent, a self-described "starving artist," is sick of all those elegant pictures of supple yogis bending their bodies in unthinkable directions and, miraculously, not sweating or grunting one bit. 
To debunk this myth for good, Sargent decided to aim his lens at the reality that is doing yoga — awkward positions, strained faces, excessive sweating and all. 
In his new coffee table book, Faces of Yoga, which is currently being funded on Kickstarter, Sargent celebrates the less 'grammable side yoga, which is, ultimately, pretty unflattering. By aiming his lens at more than 60 yogis, he's letting everyone know that a) It's completely OK to look horrifying while stretching your body and b) Instagram is sometimes garbage.
"Instagram is ground zero for yoga selfies," Sargent told Mic via email. "It's really amazing. Every day there are hundreds (millions? billions?) of people who post pictures of themselves on beaches in bikinis looking super sexy in a yoga pose."
"It's gotten to the point at a few of the corporate yoga places where yoga is this serious thing," Sargent continued. "It's a status symbol, just like being in good shape is. The beautification/yoga Instagramming fad is just another way some people promote their place in society."
Sargent first got the idea for the photo series after working at a yoga studio in Minneapolis, which allowed him to take a bunch of free yoga classes. But he always felt awkward about how he looked doing it. In part, he blamed Instagram's obsession with perfection. 
"Yoga seems like a safe place where I should realign with myself, breathe, etc.," Sargent told Mashable. "But when I see those [Instagram] posts it puts me back in my skin and makes me less inclined to practice." 
The photos set out to counter that, documenting what we look like when we're, say, ten minutes into a hot yoga class. When selecting photos for the book, Sargent only included the pictures that made him the most uncomfortable.
As far as how he got these lovely people to pose for these images, he simply got permission to go to a real hot yoga class where a few of his friends happened to be practicing. Then he started taking pictures of people while they stretched, bent and pulled. 
"People don't believe that these photos are real," Sargent said. "A few of them are more staged than others because my best friends knew what I was going for, but the vast majority are legit... I think people don't like the idea that they have an ugly side — and that that's OK."
At time of writing, the Kickstarter has received roughly half its funding, with just six days to go. But Sargent sees it as the perfect stocking stuffer for your not-so-supple yogi-loving friends. 
"I want people to be laughing," Sargent told Mic. "That's it. Ideally they're laughing and thinking, 'God, this is what I look like?' And then I want God to whisper in their ear 'Yes. Don't worry about it. I made you super hot. Don't compare yourself to others, it's just a way to live in shadows.'"
h/t Mashable