Apple Exec Apologizes for Comments About How Hard It Is for Women to "Find Music"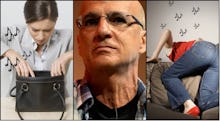 Shut down the feminism parade, everyone. Apple Music's Jimmy Iovine has finally found a solution to the fairer sex's most vexing problem: the inability to locate and stream music.
On Thursday, Iovine, a co-founder of Interscope Records, visited CBS This Morning with singer Mary J. Blige to promote the new ads for his streaming music service. He dove right in, explaining that Apple Music makes it much easier for users to find the music they want. 
Not all users, though. Just the female ones. Because they apparently can't do it on their own. 
"Women find it very difficult at times — some women — to find music," he told the panel, which included two women in addition to Blige. "And this helps make it easier."
In response, co-host Norah O'Donnell remarked — for some bizarre reason — "He's talking about me!"
Here's the video. Iovine's comment comes at the 1:50 mark:
The spots, which feature feature Blige and actresses Kerry Washington and Taraji P. Henson talking and dancing around a kitchen, are supposed to shout "ease" and "friendship" (or something). 
Not content to burn the interview to the ground with one comment alone, Iovine continued to explain the genesis of the ads. "I just thought of a problem. Girls are sitting around, talking about boys, right? Or complaining about boys. Or they're heartbroken or whatever. They need music for that, and it's hard to find music."
Oh, Jimmy. Sweet, sweet, bloviating Jimmy. What would the women of the world do without you? Services like Spotify, which has 75 million active users — a decent chunk of whom are undoubtedly of the female variety — apparently aren't good enough for us. 
Frankly, Apple Music isn't helping women enough. What we could really use is a helpful guide for all the ladies out there who just, you know, like, can't find any music! Where on earth could it be hiding?
IN MY PURSE?
IN THE OVEN?
IN THE COMPUTER SCREEN?
IN A BOOK?
OVER THERE IN THE DISTANCE?
IN MY UTERUS?
BEHIND THE COUCH?
UNDER THE BED?
After the resulting media shitstorm, Iovine released a statement to Refinery29 expressing how sorry he was to have offended half the population. 
"We created Apple Music to make finding the right music easier for everyone — men and women, young and old," he said via an Apple spokesperson. "Our new ad focuses on women, which is why I answered the way I did, but of course the same applies equally for men. I could have chosen my words better, and I apologize."
It's OK, Jimmy. At least you have your existing users. Oh, wait.