New York on Path Toward Marijuana Legalization — Here's the Latest on Legal Pot Bill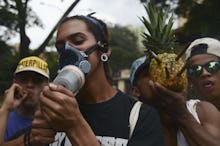 The Big Apple may soon be a Granny Smith. Legislation in New York could push the state toward the top of the list of 11 in the nation most likely to legalize marijuana for recreational purposes. On Nov. 11, New York Gov. Andrew Cuomo signed a bill allowing New Yorkers diagnosed with degenerative diseases to be put on the fast track toward receiving medical marijuana, the Associated Press reported.
The move was a long time coming. "I deeply sympathize with New Yorkers suffering from serious illness and I appreciate that medical marijuana may alleviate their chronic pain and debilitating symptoms," Cuomo wrote in a statement following his signing of the bill, according to the Associated Press. Essentially, the new law will expedite the process for those suffering from severe symptoms to be approved for medical marijuana. The state legalized medical marijuana in 2014.
"I am also mindful, however, of the overarching authority, jurisdiction and oversight of the federal government," Cuomo wrote.
New York becoming more pot-friendly: Marijuana is a budding industry in New York, as Cuomo gave express permission for medical dispensaries to be reviewed and opened as soon as possible. Storefronts aren't expected to open shop until at least January 2016, 18 months since lawmakers passed the legislation allowing medical marijuana use. 
The state has also decriminalized the possession of small amounts of marijuana, with first-time offenders only receiving a $100 penalty for holding any amount of weed 25 grams or less. Now, the Village Voice reports the Marijuana Regulation and Taxation Act could effectively end New York's prohibition on the drug and regulate it in the same way the state does alcohol.
"After decades of arresting marijuana users, the drug war has failed to prevent marijuana use or prevent minors from accessing marijuana," state assemblywoman Crystal Peoples-Stokes, who sponsored the bill, told the Village Voice. "Drug laws have also created a permanent underclass, with people unable to find jobs after a conviction ... One of the most damaging issues derived from the war on drugs is that the policies are inherently racist."
Meanwhile, other officials in New York say legalizing weed is only part of the solution to ending disparate socioeconomic classes based on race, and say a quick legalization process isn't the answer. "I think for better and for worse, we have a lot of cautious legislators who can sometimes lean on the wait-and-see approach," Drug Policy Alliance policy manager Kassandra Frederique told Village Voice. "For marijuana legislation in New York, that's not an appropriate way to look at it. It's not about wait-and-see, it's about starting to restore the communities that have been devastated by marijuana prohibition."