Phone Tapping Led Investigators to Abdelhamid Abaaoud, Alleged Paris Attacks Ringleader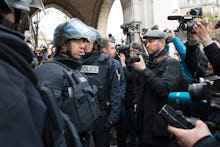 Authorities say they tapped the cellphone of Hasna Aitboulahcen, a militant killed in a special police force raid in the Paris suburb of Saint-Denis on Tuesday, in order to get to Abdelhamid Abaaoud, the alleged ringleader of the Nov. 13 Paris terror attacks, Reuters reported. Aitboulahcen was seen escorting Abaaoud into the building, where the two would later die during the police raid on Wednesday morning. 
The female militant detonated explosive belt as police stormed the complex, killing herself and a K-9 unit. Five other officers were injured. It remained unclear how Abaaoud was killed on Wednesday morning.
According to Reuters, police were originally tracking the female militant in an investigation surrounding drugs, but later used the phone number they were tracing to pinpoint Abaaoud. The New York Times reported Abaaoud, a 28-year-old Belgium citizen, was an extremist who flew back and forth to Syria to train and help export fighters from the region and into Europe.
Authorities also believe Abaaoud is in part responsible for organizing the attacks on Nov. 13 that killed at least 130 and injured hundreds more at six locations in Paris.
The Islamic State group, otherwise known as ISIS or Daesh, took responsibility for the attacks and has been releasing propaganda ever since claiming the United States is another major target for the terror group.