Childish Gambino's New Song "Waiting for My Moment:" Lyrics, Download and How to Stream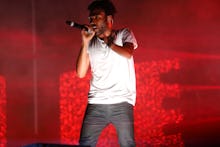 Rapper Childish Gambino, real name Donald Glover, released the song "Waiting For My Moment" with Jhené Aiko and Vince Staples on Friday, Complex reported. The single is off the soundtrack for the upcoming film Creed, starring Michael B. Jordan and Sylvester Stallone in theaters Wednesday.
The film's soundtrack features an eccentric list of hip-hop artists including Future, Meek Mill, the Roots, John Legend, Nas and even a track from the late Tupac Shakur. "Waiting for My Moment" is the latest song to be released on the soundtrack with less than a week until the film's premiere. 
Aiko and Glover belt out the chorus and Staples spits raps about the struggle to fight laid over a heavy militaristic beat in what's the perfect addition to a workout playlist. 
"We fight to live and fight for sport/I try to give they ask for more," Staples raps in the second verse. Genius provides the full lyrics.
"Waiting For My Moment" and the rest of the soundtrack can be streamed on Spotify. Most singles off the soundtrack are also available to purchase on iTunes.
Glover's talent in the entertainment industry expands beyond music. Having been a writer for NBC's 30 Rock and starring in Community, Glover will soon star in "Atlanta," a sitcom he wrote and produced about the music industry in Atlanta. FX picked up the series after reviewing the pilot in October, but an official premiere date hasn't been set yet.