Tesla Recalls Model S Over Possible Seat Belt Malfunction — Here's What to Know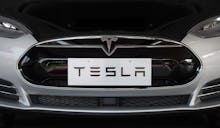 Tesla will recall 90,000 of its Model S vehicles, Reuters reported on Friday. The reason for the recall had to do with possible defects to the front passenger seat belts. Tesla, the American electric car firm run by Elon Musk, first became aware of a possible defect earlier this month after a European Tesla customer reported a seat belt malfunction. 
Tesla said the global cost of the recall would be "immaterial," according to Reuters.
The customer that first reported the malfunction alerted Tesla in early November, after a seatbelt in a Model S vehicle broke. The belt's mechanics reportedly broke when the customer turned to speak with passengers seated in the rear of the car. The automaker has asked that Model S owners bring the cars to their nearest Tesla service center for inspection.
A Tesla representative added that customers can quickly test for the defect by pulling "very firmly" on the lap strap of the safety belt with 80 pounds of force, according to Reuters. Yet the automaker recommended that drivers still bring Tesla Model S cars in for inspection, even if the vehicle passes an at-home test. 
No drivers or passengers had been injured as a result of the malfunction, according to Bloomberg Business, however the automaker's stocks did take a hit on Friday, dipping 2.3% to $216.66.
Nov. 20, 2015, 1:00 p.m. Eastern: This story has been updated.