'The Martian VR' for Samsung Virtual Reality Headset Is Coming Soon — Here's When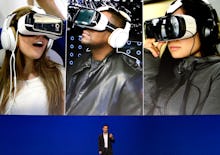 As of Friday, anyone with a new Samsung smartphone and Samsung's $99 virtual reality headset can take a virtual stroll on Mars with 20th Century Fox's newly-released preview of The Martian VR, a 360-degree virtual reality short film that allows users to experience scenes from The Martian as if they're walking in astronaut Mark Watney's shoes while he's stranded on the Red Planet.
"You feel anxiety and success, a series of emotions," filmmaker Robert Stromberg told the New York Times of the experience. The preview is currently exclusively available with Samsung phones and Samsung Oculus VR Gear headsets through Samsung's Milk VR streaming service, but it's just a snippet of what should be a 15- to 20- minute virtual reality adventure that will come out within the first six months of 2016, Engadget reports. 
This is part of Fox's plan with Oculus to transform more than 100 Fox films into VR versions sometime in 2016, Forbes reported. The collection of movies that should be available in VR in 2016 include Alien, Birdman, Taken, Die Hard and Gone Girl. 
From the silver screen to smartphone:The Martian director Ridley Scott is producing the experience, and Avatar special effects artist Robert Stromberg directs it, according to Engadget. The footage was mostly shot during filming of the movie with the movie's original set and actors, Forbes reported. It's a collaborative effort by 20th Century Fox, the Fox Innovation Lab, RSA Films and the VR Company.