Musicians Protest Donald Trump's Racism With Song and Banner During the Latin Grammys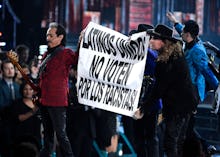 Thursday night at the 16th annual Latin Grammys, two of Mexico's biggest bands, the rock group Maná and the norteño band Los Tigres Del Norte, appeared onstage together for a monumental and politically incisive performance. They chose to perform a clear, confrontational protest anthem, "Somos Más Americanos" ("We Are More American") and waved an even more confrontational banner, taking aim at one man in particular: the current front-runner in the race for the Republican presidential nomination, Donald Trump. 
At the end of their song, after "remind[ing] the gringo that I didn't cross the border, the border crossed me," as the song's lyrics translate, the group held up a sign that read "Latinos unidos no voten por racistas!" ("Latinos united. Don't vote for racists!").
Shots fired. The sign nods to comments Trump made during his campaign announcement — ones he's repeated time and time again — that those Mexicans that choose to immigrate to the United States were "bringing drugs. They're bringing crime. And they're rapists." 
"I'm personally offended," Jorge Hernández, co-founder of Los Tigres Del Norte, told Rolling Stone. "And I think our people are too ... We know he has a large following. I really didn't expect there to be this much awakened racism, and I'm honestly surprised that many people unite to his form of thinking."
With their widely televised act, Maná and Los Tigres Del Norte aimed to direct their still-simmering outrage into an actionable solution. "We wanted to send a proactive message," Fher Olvera, Maná's lead singer, told the Los Angeles Times. "And the message for Latinos — of which there are 50 million in the United States, in the No. 2 Spanish-speaking country in the world — was to send the message: Register, go out and vote, and vote for the candidate that will do positive things for Latinos."
This is hardly the first time either band has used its music to make a political statement. Days after Trump made his initial comments about the moral fiber of Mexican immigrants, the Maná singer took the stage at Los Angeles' Staple Center and expressed his outrage. "He said we were trash. He said that the people who came from Latin America and Mexico are rapists, thugs and drug dealers," Olvera said, according to Billboard. "Those were his words. We feel pity for this incompetent man. I have never heard a speech as violent or as filled with hatred — not since Hitler." 
He encouraged the audience then to register to vote and do "what you have to do," before launching into a cover of Los Tigres Del Norte's "Somo Más Americanos," the same song the group performed Thursday night. It's just one of many in Los Tigres' long history of activist songs, much of which deals with immigrant issues and discrimination.
Watch the groups' full performance below.