American Music Awards 2015 Live Stream: Here's How to Watch Show Online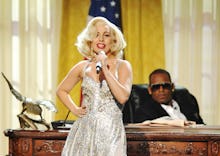 This year's American Music Awards kicks off Sunday night with host Jennifer Lopez and is featuring performances from some of the biggest names in the music industry. Justin Bieber will take the stage, likely to perform a song from his new album Purpose; other performers include Demi Lovato, One Direction and Coldplay. The show will air on the ABC network at 8 p.m. Eastern and can be live-streamed via the American Music Awards' website.
"I've always loved the American Music Awards. I don't know, it has a different energy than, like, the Grammys or any of the other awards shows. There's just something about it that every time I perform, I don't know, it's kind of like a lucky show for me," Lopez told Extra in an interview published Tuesday. "I win there! It's a good thing for me, and when they asked me to host this year... Oddly, it's not something I love to do. I don't think you've ever seen me host anything, ever. But I just love the team there, and I love the show and the energy of the show."
The American Music Awards is an annual event celebrating the biggest songs and albums of the year, from rock and hip-hop to pop and country hits. There will also be a Coca-Cola red carpet pre-show event which will also be live-streaming via Yahoo Music, according to the show's website. 
The show is also joining forces with Twitter to provide hashtags and reactionary emojis to the celebrities and musicians receiving awards and taking the stage Sunday night. Some of those include Arianna Grande's tag, #AriAMAs, Gwen Stefani's, #GwenOnAMAs, and Bieber's, #BieberOnAMAs. The social media service will feature several emojis for users to include in their tweets when responding to the performances throughout the night.
Check out TheAMAs.com to live-stream Sunday night's 2015 American Music Awards.
[INCLUDE TWEET DAY OF FROM THEAMAS TWITTER HANDLE]