Exclusive: Pandora Premieres Its Most Thumbed-Up Tracks of 2015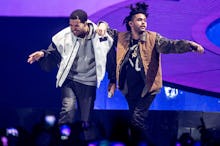 Monday, streaming service Pandora released its Top Thumb Hundred 2015, compiling the tracks that received the most thumbs-up from Pandora's 78 million monthly listeners over the course of the year. Sitting in the top spot is R&B deviant the Weeknd. It seems his ambitions to become the next Michael Jackson might actually be paying off.
The Canadian singer has two songs in the top 10, with "Earned It" at No. 1 and "The Hills" at No. 8, and four other tracks in the top 100. The list's other biggest winner also hails from the colder part of North America. Drake, the man who helped the world notice the Weeknd's talents, appears once in the top 10 with a feature on Nicki Minaj's "Only" and he also has 12 other songs on the list.
Perennial pop favorites Minaj, Taylor Swift and Ariana Grande also earned their respective nods with six, four and three songs on the top 100. Check out the full list below, and listen to a mixtape of all the songs, courtesy of Pandora, here.
The Top Thumb Hundred 2015 Full List
1. "Earned It," The Weeknd