Cyber Monday Fitbit Deals — Where to Buy the Wearable Fitness Gadget This Holiday Season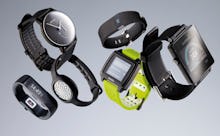 For any shopping fanatics hoping to snag a deal on the latest technology on the market during this year's Cyber Monday, look no further than the nearest computer screen. A variety of deals on Fitbits, the advanced fitness tracker that doubles as a sleek wearable gadget, are rolling out across a number of online stores on Cyber Monday, following Black Friday's kick-off to the holiday shopping season.
The Fitbit will be available for a reduced price via Amazon, Best Buy and Kohl's. 
Amazon: Amazon is offering deals on a number of electronics, including the Fitbit, in a series of savings the company is calling "Black Friday Deals Store." The Fitbit is currently available for as low as nearly $85 for its standard edition and upwards of $220 for the "Superwatch" version, which is larger in size than a typical Fitbit. 
Kohl's: Kohl's released a 64-page catalog in anticipation of the holiday shopping weekend following Thanksgiving. In it, the retail company marks down the Fitbit Charge HR from $149.99 to $119.99 and the Fitbit Charge at $89.99 compared to the typical $129.99. 
Best Buy: Best Buy customers will save at least $20 on select models of the Fitbit and up to $50 for the most expensive editions of the wearable gadget, according to Tech Times. The chain is offering the same savings as Kohl's on the Fitbit Charge HR and Fitbit Charge, but is also putting a price tag cut on the Fitbit Zip and Fitbit Surge, selling them for $39.99 and $199.99, respectively. 
Fitbit, a tech start up founded in 2007 in San Francisco and managed by James Park and Eric Friedman, creates wearable technology aimed at a universal market, with different swatch colors and sizes to provide an aesthetic for men and women. The wearable gadget syncs up with a user's phone through an app available on Google Play and the App Store, which allows anyone wearing the device to analyze their heart rate, sleep patterns, exercise routines and other personal metrics, according to the company's site. 
The company said it sold nearly 11 million gadgets in 2014 before taking the company public later that year, according to Mobile Health News.