40 Years Ago, Queen's "Bohemian Rhapsody" Became an Unlikely Hit That Changed Pop Forever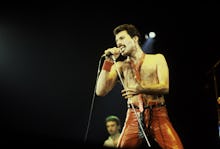 If one hears the words, "I see a little silhouetto of a man," it's extraordinarily difficult not to answer with the appropriate response: "Scaramouche, Scaramouche, will you do the fandango?"
Few likely know what the phrases mean. Still, these call and response lines from Queen's "Bohemian Rhapsody" are up there with "supercalifragilisticexpialidocious" and "google" as some of the most beloved gibberish in the English language. Queen frontman Freddie Mercury may not have even fully understood what he was trying to communicate in asking Scaramouche, an Italian commedia dell'arte servant, to dance the Spanish folk fandango. He reportedly once went as far to describe the song as "random rhyming nonsense," and saying, according to the Telegraph, "It's one of those songs which has such a fantasy feel about it. I think people should just listen to it, think about it and then make up their own minds as to what it says to them." 
This elaborate fantasy has kept the world captivated for 40 years. It's a karaoke mainstay and the perfect sing-along for a drunken revel or a road trip, though no one has ever done it better than Wayne's World. In 1977 the song tied for British Record Industry's best British single from 1952 to 1977. And in 2012 voters in a poll held by the U.K.'s Official Charts Company voted it the greatest No. 1 single of all time.
It earned these accolades against all odds.
At the time of its release, record executives and artists claimed Queen's wild and weird "Bohemian Rhapsody" would never hit. It was too long, too disorienting. However, on Nov. 23, 1975, the song hit No. 1 on the U.K. charts and stayed there for nine weeks. In doing so, it forever changed the standard of what a pop hit could be. 
The song was designed to be an epic in every sense of the word, something to surpass everything that Queen, or any band, had ever attempted before. 
Mercury bucked every songwriting convention in the book. Instead of a verse and a chorus, he wrote individual sections of operatic rock, each more intense and theatrical than the last. They recorded over 180 separate tracks to tape, with Mercury always going back to add "a few more 'Galileo's,'" as he described them. The process produced a tape so thin it was nearly transparent, Rolling Stone reports.
When it was finished, the sweeping choral number clocked in at about six minutes long, a length that record executives insisted would never fly with radio programmers. However, the band felt the song was really tapping into something special, so they brought it to respected DJ Kenny Everett to get his advice. "[H]is response was very animated," Roy Thomas Baker, the band's producer, said in a 1995 interview. "[Everett] said, 'I love this song. It's so good, they'll have to invent a new chart position. Instead of it being number one, it'll be number half!'"
Everett began playing the song in snippets on the radio for listeners until they began demanding to hear it in full. Other DJs began tracking down copies, playing it to rave reviews from fans. 
And it was the fans who wrote the rest of the legend.
The song also came with a groundbreaking music video, one of the first ever. It did little to clarify the song's meaning or add anything by way of a story. However, that seemed to be part of the point. Anyone who asked for clarification about the song's meaning met Mercury's wrath. "Fuck them, darling," he once said, according to Rolling Stone. "I'll say no more than what any decent poet would tell you if you dared ask him to analyze his work: 'If you see it, dear, then it's there.'"
Queen's guitarist Brian May was a little more forthcoming. "I think that Freddie was certainly battling with problems in his personal life, which he might have decided to put into the song himself," May said, when asked about it for Queen Greatest Video Hits 1. "He was certainly looking at recreating himself ... I think it's best to leave it with a question mark in the air."
It's a shimmering question mark that has impacted generations of singers from Katy Perry to Kurt Cobain. It's challenged a wide array of artists to reach into more uncertain creative territory, demonstrating that the rules of pop music are made to be broken. "The music industry is all about art versus product," CeeLo Green once said, according to Gigwise. "What's left to do, but implode? Please, at some point in the day, play 'Bohemian Rhapsody' to the kids. Make them listen. Show them the possibilities."
Just taking a look at the number of covers the song has inspired alone — from artists ranging from Pink to Kanye West to the Muppets — it's clear the possibilities are truly endless. Watch some of the best renditions below and find your own group with whom to celebrate four decades of "Galileos."