Madeleine Albright Slams Ben Carson and Other Politicians For Anti-Refugee Rhetoric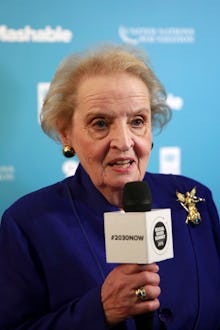 Former United States Secretary of State Madeleine Albright joined the ranks of those calling for the U.S. to continue admitting Syrian refugees and others from conflict zones in the Middle East and elsewhere this week, saying she was dismayed by the harsh rhetoric being used by American politicians in the wake of Nov. 13 terrorist attacks in Paris which killed 129 people.
"The debate over refugees has been driven by fear, and our politics should never be based on the fear factor," Albright told a conference call organized by the progressive Center for American Progress, according to MSNBC.
Albright reserved particular ire for Republican presidential candidate Dr. Ben Carson, who compared refugees to "rabid" dogs this week.
"I find it stunning that there was a candidate who specifically said refugees are like dogs," she said. "I can tell you dogs in America are treated better than some of the refugees as they cross the ocean and drown."
Other than Carson, much of the Republican presidential field as well as other politicians have announced their opposition to the refugee program, created in response to an ongoing migrant crisis in Europe which has seen over 750,000 people arrive so far in 2015.
Former Florida Gov. Jeb Bush and Texas Sen. Ted Cruz said the U.S. should only aid Christian refugees. The Democratic mayor of Roanoke, Virginia, David A. Bowers, endorsed Japanese internment-style camps for migrants. Finally, leading Republican Donald Trump called for a tracking database of all Muslims in the country.
Albright's opposition to this kind of talk is also personal. She immigrated to the United States in 1948.
The elder stateswoman from Czechoslovakia has emphasized her own American refugee experience in the wake of the Paris attacks, writing in an essay for Time, "I am deeply disturbed by the calls to shut our nation's doors to properly vetted Syrian refugees fleeing terrorism and persecution in their native land."
"When people ask me what is the most important thing that ever happened in my life, it was becoming an American," Albright also said during the call, according to Think Progress. "I always hesitate to mention I was a refugee ... I definitely was ... I know what it's like to leave your country and try to make a new life."
Get the news everyone's talking about delivered straight to your inbox every morning by signing up for MicCheck Daily.