Joe Biden Defends Refugee Program, Says Terrorists Win if We "Change Our Value System"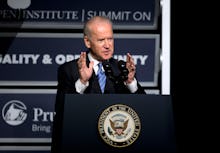 At a rally in Dallas, Texas, this week, Vice President Joe Biden offered a heartfelt defense of the Obama administration's attempts to continue admitting refugees from Syria and other war-torn countries after a Nov. 13 terrorist attack in Paris killed at least 129 people.
As hundreds of thousands of refugees continue to pour into Europe, Biden told CBS DFW in remarks that have since garnered 1.2 million views, the U.S. cannot suddenly decide it is okay to treat them with suspicion and bigotry. He also promised Americans refugees did not pose a terror threat to the U.S.
"One way to make sure that the terrorists win is for us to change our value system," Biden answered. "That's number one."
"Number two, we have a real vetting system for refugees coming into the country," he continued. "We can assure Americans that they will be safe. For us to turn back now ... on refugees, is turning our back on who we are. The only way terror wins is if they cause you to change your value system."
"ISIS is no existential threat to the United States of America," the vice president concluded. "Simply stated, they are not. And we are going to be working as hard as we can to open our arms to refugees."
Biden's statements are consistent with President Barack Obama's insistence this week that the United States cannot afford to abandon its value of religious non-discrimination in the face of sustained attacks by Republicans and some Democrats who have advocated ending the administration's resettlement program, only admitting Christian refugees or putting them in internment camps similar to those used for residents of Japanese descent during World War II. Leading Republican candidate Donald Trump has gone so far as to advocate for a mandatory database of all Muslims residing in the United States.
The president has also said a failure to admit refugees into the U.S. would serve to alienate more Muslims and act as a "potent recruitment tool" for ISIS.
Former Department of Homeland Security head Michael Chertoff, who served under President George W. Bush, told the Wall Street Journal this week the current refugee vetting system was "secure and reliable," if not perfect.
Admitting refugees "allows us to truthfully say that we're not hypocrites or bigoted against Muslims or people from other cultures," Chertoff told the paper. "That has a positive impact in terms of the disposition people around the world have toward the U.S. You don't want to play into the narrative of the bad guy."