The Chipotle E. Coli Outbreak Is Still Spreading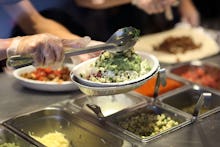 Three weeks after fast-casual burrito chain Chipotle Mexican Grill closed 43 locations in Seattle, Washington, and Portland, Oregon, following an outbreak of E. coli tied to stores in those states, the bacterial infection has spread to other Chipotle locations around the country.
Reuters reports the Centers for Disease Control and Prevention now say additional customers at Chipotle locations in California, Ohio, New York and Minnesota have gotten a little E. coli with their barbacoa and cilantro-lime white rice.
According to Reuters, 45 people have gotten ill, 43 of whom reported eating Chipotle food, since the outbreak was first detected in October. Sixteen of those individuals have been hospitalized.
The news agency also reported that shares in Chipotle plummeted 12.3% on Friday, dropping to $536.19, spurred by concerns the chain was damaging its "Food with Integrity" tagline.
Vanderbilt University infectious disease specialist Dr. William Schaffner told ABC News in September any outbreaks in its restaurants were likely tied to uncooked ingredients like salad greens, since proper cooking of burrito ingredients such as meat, rice, beans and peppers would kill any pathogens present. The chain has been tied to six previous outbreaks of food-borne illness since 2008, according to the Food Poison Journal.
"There has to be a common supplier with a common food item," Seattle attorney Bill Marler, who represents some of those individuals infected in the current outbreak, told Reuters.
In a statement to the press Friday, Chipotle Mexican Grill said it "conducted deep cleaning at the restaurants that have been linked to this incident, replacing ingredients in those restaurants, changing food preparation procedures, providing all necessary supply chain data to investigators and surveying employees to be sure none have had any symptoms of illness." The company also noted that none of its employees across the country had been ill as a result of the E. coli outbreak.
h/t Reuters